Bringing Kids to Church
Excerpted from original article published in the Holy Name of Jesus Church Bulletin (2001)
Part 1 of a 2 Part series
I was exhausted. It was 10:35am and I had already used up every ounce of patience in my body. I was crabby, frustrated, and spiritually drained. You see, it was Sunday, and my husband and I had brought our kids to church. We have four children ages 6 years and younger – and another one on the way. The service lasted an hour and a half. Need I say more?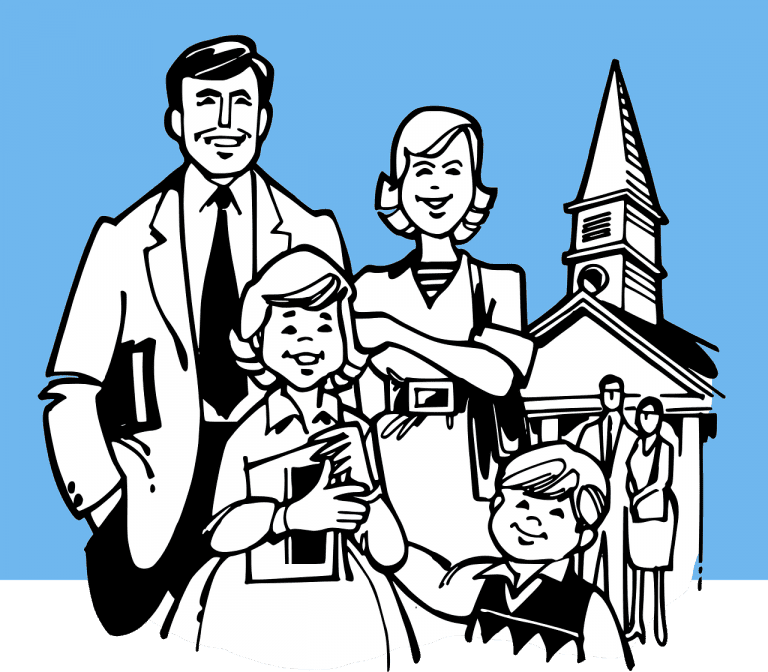 Bringing young children to church can be both dutiful and disastrous. Jesus said, "Let the little children come to me," (Mark 10:14). Sometimes I think this would be easier to do if church services were held on a playground.
And yet, as my husband and I juggled our young children, we couldn't help but notice the families whose children were behaving quietly and even participating. Week after week these same families demonstrated that it was possible to bring kids to church and "make it work".
I wanted to be among this elite group. And so, my husband and I started to research what we could do to improve. We observed the families whose children behaved and I interviewed some of them. In addition, I spoke with our pastor and read books on the topic. In all, I gathered some ideas that will help make Sundays run more smoothly – both for parents of young children and the people who sit near them.
The Tricks of the Trade
Look At All of the Options and Know When to Use Them
Most churches offer multiple options for parents of young children. The nursery, Sunday school classes, and the "crying room" can all provide outlets when sitting quietly with young children in church isn't an option. The key, however, is knowing when to use them. Fr. Arnold Weber, OSB of Holy Name of Jesus Church suggests using them all. "Vary it," he says. "Under three years of age, the nursery is a good option. For the 3, 4, and 5-year-old age group, the children will likely learn more in a Sunday school setting."
However, Fr. Weber recommends bringing children to sit with you in church for special occasions such as a birthday, a visitor, or a holiday. This allows the whole family to be together to celebrate, and the children learn that being with mom and dad in church is a privilege, and one to look forward to.
Prepare Ahead of Time
Robbie Castleman in her book
Parenting in the Pew
(2013) says, "Sunday morning begins Saturday night." Sunday night is a good time to lay out the clothes for the next day, finish Sunday school projects, pack the diaper bag, and prepare money for the collection.
Mary Ann Ignaczak, a mother of five boys, suggests you continue your preparations in the car on the way to church. This is a great time, she says, to discuss expectations. However, she also suggests being realistic and be consistent in one's expectations.
Finally, Ignaczak suggests discussing with your children what they can expect to happen at church. For example, let them know where you plan to sit, what the pastor will do, the order of the service, and whether or not you will stay for doughnuts and fellowship. Having this information can be very helpful for children.
Know What to Bring and What to Leave at Home
Some parents bring a full breakfast while others bring what looks like the entire toy chest. These may be extremes, but it is hard to know what to bring to help youngsters get through the service. Ginny Metzger is a mother of nine children. She recommends that 4 years of age is a good "cut off" age, suggesting that once a child is older than 4 years old, they should not be allowed to bring toys or books to church. Children younger than 4-years-old are a different story. For these ages, Metzger recommends, "Do what works best for the child, within reason. A full breakfast is not acceptable. But, if a few Cheerios is going to help your 2-year-old stay quiet, them bring some. Likewise, a special book or soft toy may also be of help."
Metzger also states, "What's important is to train the child to be respectful – respectful of church and the people around you. An arsenal of toys and snacks is distracting to other adults and children. The less you bring, the better."
Part 2 of this article can be found at this link!
Pamela Patnode will be speaking at the MN Catholic Home Education Conference at the University of St. Paul, MN