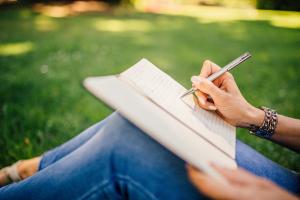 As most of you probably know, I'm a month away from graduating with my bachelor's degree in English writing from Franciscan University, and this final charge at assignments has been grueling. With assignments, finding a summer internship, prepping for Spain this fall, and doing taxes for the first time, I've had little time to write. So my gifted friends have written some brilliant guest posts to fill in for me as I juggle the rest of my life right now. Enjoy this reflection on writing and vocation by Theresa Williams; I'll be back soon. 
-Marie
Passion Kindles
It was the summer of 1989 in Janesville, Wisconsin. Darkness had just covered the sky as my cousins and I gathered in our grandmother's small kitchen for chocolate milk before bedtime. We made a game of swirling the brown syrup into the milk, seeing what designs we could make.
"That's enough, Theresa," my mom said from behind me, holding my baby sister.
I pouted at her. My aunt hadn't asked my four- and eight-year-old cousins to stop yet, and I was four, too! As if on cue my aunt took the chocolate syrup from us and handed out spoons.
When we finished mixing our chocolate creations, we put our spoons in the sink and took various seats around the kitchen to enjoy them. My cousins took two seats around the table and I sat on a stool near them. The other seat at the table was almost perpetually occupied by my grandmother—it was her throne, of sorts. Her seat was next to the open window from which you could see her rosebush and the street, and during the day you could catch a glimpse of the river beyond the houses.
As we enjoyed the early evening and the cool breeze coming through that window, I began to tell a story. This story starred a female orange (yes, the fruit) in a pastel dress who had been captured by a sinister, mustachioed orange. After overcoming many obstacles, an orange wearing a fedora and leather shoulder bag (there's a reason this fruit looked like Indiana Jones; I was quite well-versed in his movies even at my young age) swung in on a rope, scooped up the female orange, and swooped off to safety. As I finished the story with a dramatic whooshing of my arms, everyone clapped for me and the adults told me they couldn't wait to hear more of my stories the next day.
Since before I could read, stories played an integral part in my life. My mom read books to me every day, movies with their characters and plots entranced me, and I was never made to feel that people didn't have time to or interest in listening to me tell stories. My mom once let me use her typewriter to pen one of my tales and, although I couldn't spell, I had the most glorious time click-clacking on the keys, recounting the story of a girl who didn't age chronologically. I was never satisfied just listening to or reading stories, I needed to create them.
Passion is Burning
Stability was the centrality of my home life growing up and, as I became older, I translated success as stability. Creative writing is anything but stable. "When I was a child, I used to talk as a child, think as a child, reason as a child; when I became a man, I put aside childish things" (1 Corinthians 13: 11). So I let the passion that consumed me for storytelling assume the place only of hobby in my heart and focused on finding another way to both be successful (stable) and serve God. This, combined with strong experiences of the Faith through my parish's and diocese's youth programs, landed me on youth ministry as the answer to my career conundrum. Though my high school senior yearbook stated my future plans were to "write poetry and prose and collect it into volumes," I applied to college believing that I wanted to be a youth minister. Storytelling officially took a backseat in my life.
In September 2006, my senior year of college, I was just under two semesters away from graduating with my BA in Theology and Catechetics/Youth Ministry. One day in class, I began to wonder how I ended up there. As I listened to my professor teach our class how to successfully navigate "parish politics," I'd suddenly had enough.
But I still didn't think seriously about writing again until I was just three months shy of graduation, far too late to change my major. Having decided four months earlier that parish youth ministry was not my calling and with three months until graduating, I sat in my daily holy hour randomly drawing up a pro/con list for writing as a career. The results of that pro/con list changed me. I had been denying my passions for storytelling out of my fear of a life lacking stability and of not directly serving God. I let my fears go that night. In a span of three weeks, I went from no longer knowing what I wanted to do with my life, to questioning if I'd been denying this talent and desire God had given me, to finally trying my hand at screenwriting and writing my first short story in years.
That summer, I began writing another story that has become the basis for the novel I'm currently writing. Though this passion had been reignited in me, I still began graduate school for Theology in the fall. But I became even more confused about and disgruntled with the way my life was going. As I sitting in a particularly frustrating class, the professor—in a fit of his own passion—exclaimed, "If you're not eating, breathing, and sleeping this stuff, then you shouldn't be in this program." That was all the confirmation I needed. I dropped out of the MA Theology program after that one semester and re-enrolled as an undergraduate to complete a my third undergraduate major in English Writing.
Stoke the Flames
While my professor's exhortation was my impetus to drop out of the MA program, it was also the push I needed to follow my own passion. I began to see the world and people anew as my mind was once more consumed with creating poetry and prose.
Even though I no longer felt a particular call to youth ministry, the first job I took out of college was a youth ministry position. My second job was as a high school religion teacher. I still didn't yet know how to pursue anything else. In this time I also realized more deeply how all talents, whether or not they explicitly speak of the Lord, are ordered towards Him simply because He gave them. Since everything belongs to Him and He upholds all things in existence, all is His. It is not imperative to audaciously bellow His Name at every turn, but, rather, to let it seep through all actions and words. I no longer felt the need to explicitly serve God, but instead to serve Him by using the talents and passion He gave me to the best of my ability.
There are many laborers in the vineyard and many types of labor to be performed. When I let go of my fears and took a hard look at my talents and desires, writing was the only flame still flickering. One thing is for sure, though—I was right that being a writer is not stable. But that no longer troubles me; I was never in it for the money, anyway. Opening my veins and bleeding onto page after page is not only what I do best but it is the hardest thing I do…and it is the most freeing thing I do. It is the way in which I feel most connected to Christ and to the world and to others.
Mother Knows Best
It was the middle of a summer day in 1998, shortly before my thirteenth birthday. My mom and I were in my room, which my sister and I had divided into halves with a curtain, while sunlight poured through the oversized window that faced the lake. I had pleaded with her to drive me eleven hours from our northwestern Pennsylvania home to North Carolina so I could audition for a television show. She listed the corruption of the acting business, my shy nature, and my social anxiety and stage fright as reasons I would never make it in the acting business and should avoid it. Still, I pleaded.
"I don't understand why you want to act," she questioned me, putting her foot down on a firm "no." "I wish you would just write. You're so good at writing and telling stories."
Sometimes mothers are right. Mine sure was.
Theresa is a graduate of Franciscan University of Steubenville where she obtained her BA in Theology, Catechetics/Youth Ministry, and English Writing. Her writing has been featured at Ignitum Today and the National Catholic Register, and she currently contributes weekly at EpicPew. She lives with her husband and two children in Colorado. You can find her on Facebook or on Twitter @TheresaZoe
Image Credit:
https://www.pexels.com/photo/book-girl-grass-hands-261667/