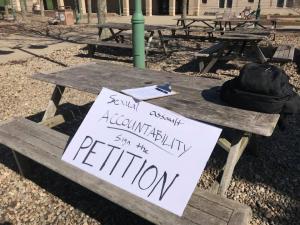 Students ask for answers
Yesterday I sat outside the JC Williams Center (basically, the student union for those of you unfamiliar with the campus) with a respected friend, helping him ask students for signatures on a petition he had written to Franciscan's Student Government. I was impressed by his petition: it was charitable, calm, and rooted in a desire for transparency and justice.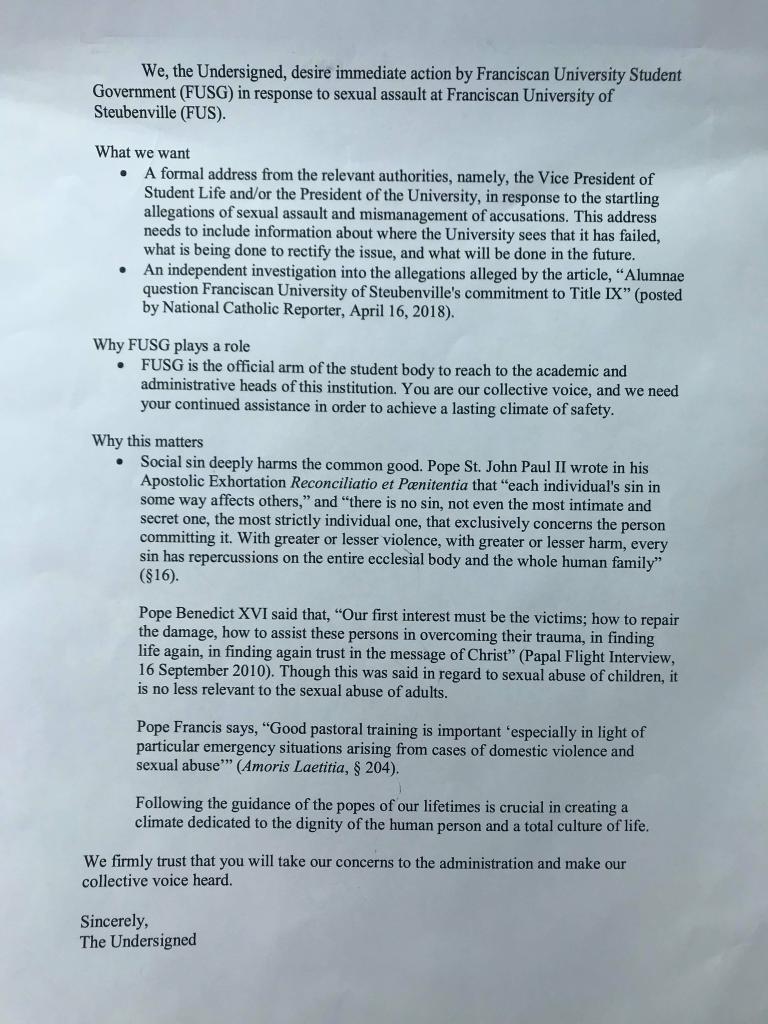 I am grateful I had this opportunity to connect with students, faculty, and staff through this petition yesterday (even if it meant my face got sunburned right before my last Spring formal). It led to incredibly fruitful, compassionate discussions about the Title IX Problems at FUS. Many of those with whom I conversed raised concerns over the article itself, and I wanted to address those here as best as I am able.
This article was not drummed up by the National Catholic Reporter.
For those out there dismissing the article because it was published by NCR, please note that Jenn Morson (the author) has worked on this research for upwards of 4 years. She pitched this piece to numerous publications and the Reporter was the only one who took her up on it. This article was not bred by the Reporter to stir up hatred for the university; Morson wrote it to expose an ongoing problem that she saw during her time here as a student 10 years ago, which has not been rectified. She loves Franciscan and wants them to do better.
Some people have approached me with the concern that this article slanders the university and individuals within it, namely administrators and even victims.
Based on my own limited experience and what I know of my friends' encounters with Catherine Heck regarding Title IX and other cases, serious negligence and mishandling occurred. I don't know her personally. I have heard from others I trust that she has handled other matters incredibly well. I believe it. I don't believe she mishandled these cases of malice, but the reality (according to both Morson's lengthy research and to mounds of anecdotal evidence) is that she mishandled these things nonetheless. It is her job to do this and to do it well. We pay her, as students who pay tuition and thus her salary, to protect us, believe us, and conduct thorough investigations into claims of misconduct or assault for the sake of both parties, the accused and the victim. From what I can glean, she has consistently failed in this duty; she and others have pressured students not to go to the proper public authorities and have silenced them, blaming them for the things they suffered rather than supporting them, believing that something is wrong and needs to be investigated, and coming to a truly thorough conclusion.
As for slander, if the claims of mishandling in the article are true (as I am thoroughly convinced they are) then this does not constitute slander, for slander is deceit. It could constitute defamation, which is "revealing a truth about another person that ought not be revealed." However, Justice and the safety of students requires that, since over a decade of attempts to address this issue behind closed doors and along the proper channels has not resulted in an adequate change in the way the administration handles this, coming forward to the public was really the only possible further step.
The victims' perspective
For those who feel Morson used victims somehow, please know that each of them approached her when she said she wanted to research the school's mishandling of these cases. The victims in the article approached her and said "tell my story."
There were numerous other victims, especially more recent victims, who came forward to Morson but were uncomfortable having their stories or names attached to this article. And so Morson did not include them. She fully respected and sought (and continues to seek) to protect the safety and privacy of any and all victims with whom she has communicated.
A culture of victim-blaming?
But this points to another important problem: there are recent victims on this campus who have experienced sexual assault or misconduct and who are so afraid of retaliation from the student body, from their aggressor's friends, and from the university itself, that they told Morson they wanted to come forward but couldn't until they graduated. Whether they have reason to or not, these women so fear retaliation and judgment/victim blaming from this university and student body that they will not come forward. This fear is proof that there is at least some degree of toxic culture toward victims here (if the cesspits of Frannies Talk to Each Other weren't enough).
My final point is that not all victims heal by having their stories addressed privately. Most victims throughout history have been silenced and their aggressors have gone unpunished. But coming from my own experiences of trauma as a child growing up in a family of Catholic Domestic Abuse, often the only way to heal is to tell our truths, to tell our stories so that we and others can know we aren't alone.
For additional information about this ongoing discussion please see these articles:
Alumnae question Franciscan University of Steubenville's commitment to Title IX  by Jenn Morson. This is the original article, which I've linked to above.
WHAT'S Going on at FUS and Christendom? A Quick Timeine of #MeToo by Emily C. A. Snyder.
What's Amiss in our Catholic Sexual Education? I wrote this piece back in January when the Christendom rape cases broke.
Sexual Assault and the Failure of Catholic Schools by Emily C. A. Snyder, in which she reflects upon a time when she was herself complicit in victim-blaming.
The "Veritas Institute for Ethics in Public Life" at Franciscan University of Steubenville: Expression of Concern Compiled by Claire Gilligan ('08 FUS graduate), Annie Marie (Sohler) Snoddy ('09 FUS graduate), and Theresa (Bey) Williams ('07 FUS graduate).
Image Credit: Anonymous