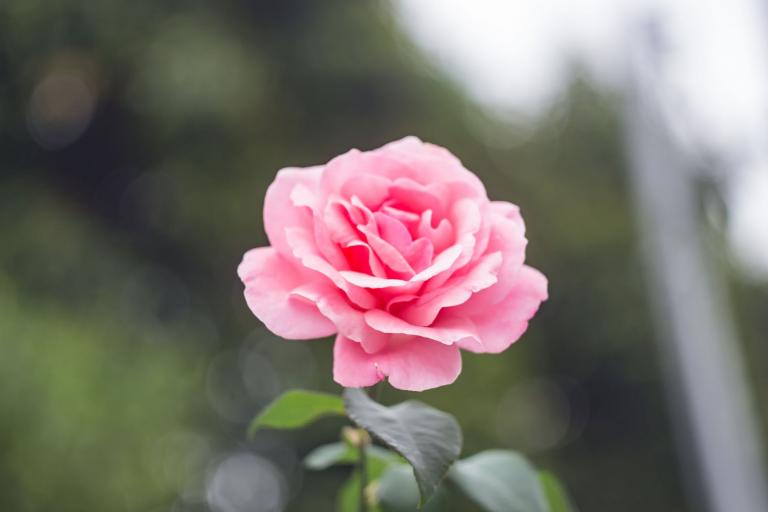 Laetare Sunday – a day of rejoicing. The halfway point of Lent. The celebration of Easter Sunday is within our sights! It's almost Alleluia time!
While driving my daughter to her Confirmation catechetical session today, we were running late, of course, and I was driving just a tiny bit over the speed limit. She told me to stop speeding, at which I replied that I wouldn't call it speeding. It was more like hastening, I said. Didn't the Virgin Mary hasten to help Elizabeth after the Annunciation, after all?!
She didn't think it was funny.
At Mass this evening, our parochial vicar wore the rose color vestments signifying today's joyful feast. In honor of the day, and in keeping with the liturgical color of the feast, I've poured myself a glass of rose. It has been a long Lenten week, and I think my evening prayer was actually more effective because of it!
With today's gospel, we recall the amazing tale of the Prodigal Son that never gets old, in my book. To hear of the Father's overflowing love and mercy for his wayward son never fails to encourage me and give me hope for my failures. I am so thankful for this story that continues to reveal to us how God forgives the worst transgressions and sins, and always welcomes us home.
Our pastor reminded us that the lesson we learn from the older son is that we are always obligated to welcome the prodigal children returning to the fold, even when it is not convenient. We have to make room in the Church for those coming home, and even to step up and volunteer for the Welcoming Committee – to follow the Father as he goes out to the returning son to welcome him even as he is still far off. We have to be the ones who fetch the ring and the robe and help slaughter the fatted calf for our brothers and sisters who find Christ and are seeking his mercy and forgiveness.
In this Sunday's Vespers, the antiphon for the Canticle of Mary proclaims, in the words of the Prodigal's Father, "My son, you have been with me all the time and everything I have is yours. But we had to feast and rejoice, because your brother was dead and has come to life again; he was lost to us and now he has been found." The Father is telling his older son not to be envious or bitter because of the celebration over the returning younger son, but to rejoice with him over his conversion. So must we be with those who return home.
My husband and I often joke about how, just when we think we get our spiritual house in order and get cozy and comfortable with our lives, God comes and "moves our furniture around." Some trying circumstance or, sometimes, a cataclysmic event, happens and upsets our spiritual "Feng Shui," throwing us off balance. We are forced to reevaluate our lives and reorient ourselves.
This can happen when the Church community changes and people convert and return. It is easy to go along effortlessly when things are easy and going well and everything is familiar, but when God or circumstances upset the balance of our lives, or our church community, our true character and our real selves are exposed. That is what happened to the older son in the parable. Things were fine when he was the favored one with his father, but when the younger son returned home, his world was changed and his virtue was challenged. His furniture was moved unexpectedly and he was caught off-guard.
The lesson for us is to always stand humbly ready to receive those returning home to the father. We should show charity, forgiveness, and humility when doing so, and we should never think ourselves better than them:
To think of oneself as nothing, and always to think well and highly of others is the best and most perfect wisdom. Wherefore, if you see another sin openly or commit a serious crime, do not consider yourself better, for you do not know how long you can remain in good estate. All men are frail, but you must admit that none is more frail than yourself. (Imitation of Christ Book 1, Ch. 2)
The lesson for the older son is challenging, but the message of the return of the Prodigal Son and of Laetare Sunday is encouraging and exciting. The anticipation of the coming celebration of the most joyful season of the liturgical year is growing. The closing prayer of Vespers exhorts us:
"Let us hasten toward Easter with the eagerness of faith and love".
This is the kind of hastening God wants us to do!