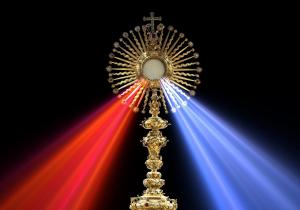 "You expired, Jesus, but the source of life gushed forth for souls, and the ocean of mercy opened up for the whole world." These are the comforting words from the Opening Prayer for the Chaplet of Divine Mercy. When you think of an ocean, you picture a vast, wide, and deep body of water extending as far as the eye can see in every direction. We know that God's love is so much bigger and all-encompassing even than that. He calls us to enter into that love and mercy through the Eucharist, which is the Real Presence of Jesus. In addition to making himself available to us in Holy Communion, Jesus has also given us the great gift of being truly present at all times for us in Adoration of the Blessed Sacrament.
Adoration is entering into this ocean of love and mercy. It can be uncomfortable or even scary to venture into new waters and begin to grow in our faith, but in order to know Jesus more we must leave the safety of the shore and swim out into the deep water where he dwells. "Let us love Jesus and lose ourselves before the Blessed Sacrament," invites Blessed Charles de Foucauld. When we wade into the waves, the current of the ocean pulls us further out into the deep. When we adore Jesus in the Blessed Sacrament, we allow the current of God's love to steer us in the direction of his will. We can not control the direction the current takes us; we simply trust and allow ourselves to be swept away into his arms. But we can be assured that as we kneel before him, we receive many blessings and gifts:
"Do you want the Lord to give you many graces? Visit him often. Do you want Him to give you few graces? Visit Him rarely. Do you want the devil to attack you? Visit Jesus rarely in the Blessed Sacrament. Do you want him to flee from you? Visit Jesus often. Do you want to conquer the devil? Take refuge often at the feet of Jesus. Do you want to be conquered by the devil? Forget about visiting Jesus. My dear ones, the Visit to the Blessed Sacrament is an extremely necessary way to conquer the devil. Therefore, go often to visit Jesus and the devil will not come out victorious against you." (St. John Bosco)
The Church teaches that Adoration before the Blessed Sacrament has immense value and merit for us. "The Church and the world have a great need for Eucharistic worship. Jesus awaits us in this sacrament of love. Let us not refuse the time to go to meet him in adoration, in contemplation full of faith, and open to making amends for the serious offenses and crimes of the world. Let our adoration never cease." (CCC #1380)
The Divine Mercy image was given to St. Faustina, a Polish nun who received divine revelations from Jesus. She describes in her Diary on several occasions how she saw the sacred rays of his mercy just as they are depicted in the image emanating from the Blessed Sacrament and spreading throughout the whole church over all present. When we adore Jesus in the Blessed Sacrament, we receive these rays of his love and mercy into our souls. We are enlightened, healed, and restored and our hearts are converted and changed. St. Faustina says, "Beneath these rays a heart will grow warm even if it were like a block of ice; even if it were hard as a rock, it will crumble into dust." (Diary 370)
No words or particular formula are needed in adoration. As a newly married couple rejoice in being together, it is sufficient to be near the beloved, to give and receive love from one another. It is not enough to know about Jesus and hear his words; he wants to love us personally and intimately. He knows us better than we know ourselves and loves and accepts us as we are, but he wants for us to know him as well. The only way to get to know another and grow in love and intimacy is by spending time with them. So to know the Lord we must commit to regular prayer, face to face, with him.
It may seem like it is difficult to find time for adoration. We spend so much time in recreation, entertainment, and relaxation: shopping, sports, television, internet, and other leisure activities. One hour a week is all he asks. To have a committed time before the Blessed Sacrament is important because it keeps us faithful to prayer. To commit to a Holy Hour is to tell Jesus we love him enough and he is important enough to set aside time in our busy schedules for him. God made us and we are his; shouldn't we give him this much?
The monstrance contains the Blessed Sacrament, the Son of God, truly present Body, Blood, Soul, and Divinity for us. The Church has approved many Eucharistic miracles, but the first and perhaps the greatest is the Miracle of Lanciano. A monk in the 700s, doubting the True Presence of Jesus in the Eucharist, was brought to tears and converted when, at the consecration, the host turned to flesh and the wine to blood. Research conducted in subsequent years determined that the flesh is tissue from a human heart and the blood is human blood, type AB, the same type found on the Shroud of Turin. The tissue should have deteriorated quickly, but the miracle remains today, an extraordinary sign of the love of the Heart of Jesus in the Eucharist for all of his children.
Jesus has blessed us with so many gifts and proofs of his love in our lives; can we not spend one hour with him in adoration? He is true God and true Man with a heart that loves and wants to be loved in return. He longs for us to spend time with him, to comfort him and make reparation for our sins and the sins of the world, and he offers us comfort and consolation in return. "Come to me, all you who labor and are burdened, and I will give you rest. (Matt. 11:28) Jesus calls to us to come to him; to give our difficulties to him and rest in him. He is always present, waiting for you and me to approach so he can pour his mercy and grace out upon us, console us, instruct us, and strengthen us for the journey of life.