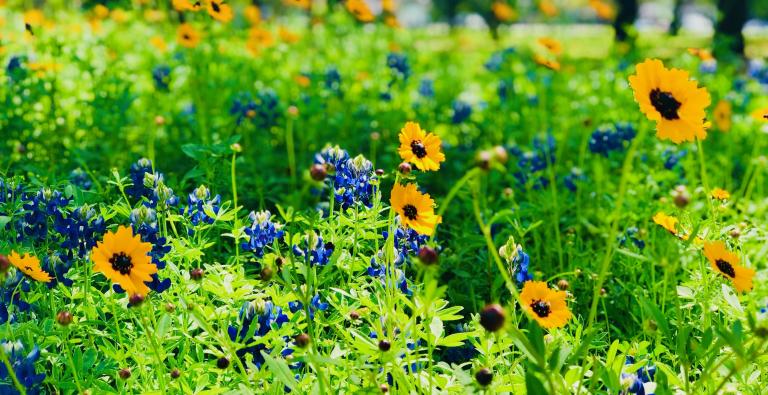 My husband and I were out in the back yard enjoying the cool, breezy, unpredictable South Alabama spring weather the other day. He had a good blaze going in the fire pit and the smell of smoldering branches was in the air. The last few dry, brown leaves lingering in the trees drifted to the ground, unfettered by the gentle breeze. Watching the leaves fall to the ground reminded me of the brevity of life and how important it is to use the time we have been given well. Just as flowers bloom and then fade, the leaves are only green for a time, then they become brittle and dry and eventually fall to the earth. Our season on earth is only for a time; then we will be called to eternity and to give an account of our lives.
In the parable of the talents, Jesus relays the story of three servants who receive possessions, or talents, from their master, each according to his abilities. The first and second servants invested their talents and earned more. The third servant, not as diligent and astute, buried his one talent and incurred the wrath of his master for his laziness and irresponsibility. This parable came to mind when reflecting on the falling leaves in our backyard. I want to use the time I have on earth to serve God and others and produce good fruit with the gifts I have. When my life is over, I am hoping Jesus will say to me, like the first two servants,
"Well done, my good and faithful servant. Since you were faithful in small matters, I will give you great responsibilities. Come, share your master's joy." – Matt. 25:23
This is the main reason I write: to share God's love with others and to make use of the gifts and talents that he has given me. I am blessed and surrounded by a loving and supportive family and parents who passed down to me the treasure of my Catholic Faith. I would be negligent if I did not use the blessings and knowledge of the Faith that I have received over the years to give back to God and to others what I have been given.
Writing for Patheos is important to me because I believe so strongly that the way to understanding and cooperation between people is through peaceful dialogue and conversation, especially concerning difficult and divisive issues. Our differences can separate us and sow discord and factionalism. Liberal and conservative, Christian and non-Christian, the list goes on of beliefs and ideas that cause division. Even among Christians there are countless differences of opinion. I believe that if we pause to listen respectfully and patiently to one another and learn from each other, our world will be a more peaceful and intelligent place to live. We are all called to help build up the Kingdom of God. This is what I hope to do, in a very small way, through my column. Writing, to me, is not work; it is a passion and a pleasure. I wasn't sure how I was going to be able to use my writing, but God providentially led me to meet Maria Morera Johnson, author of
Our Lady of Charity: How a Cuban Devotion to Mary Helped Me Grow in Faith and Love
, who helped to set me on the path that lead me here. With the unexpected blessing of the opportunity to write this column, I am reminded, as I hope you are by reading it, that God does provide and that we should always trust in Him.
…Learn from the way the wild flowers grow. They do not work or spin. But I tell you that not even Solomon in all his splendor was clothed like one of them. If God so clothes the grass of the field, which grows today and is thrown into the oven tomorrow, will he not much more provide for you, O you of little faith? – Matt 6:28-30