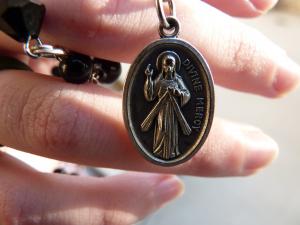 Abortion is one of the greatest tragedies of our time, for all involved: the unborn, the women who become victims to the abortion industry, and for individuals who become involved and employed by abortion providers. This fact is poignantly revealed in the movie Unplanned, the story of Abby Johnson, who herself had two abortions and worked as a Planned Parenthood clinic director. After witnessing an ultrasound-guided abortion firsthand, Abby has a complete change of heart and becomes one of the strongest voices against abortion, also founding And Then There Were None, which assists abortion workers out of the abortion industry.
Throughout the movie, Abby is supported and loved by her husband Doug, who personally and vocally opposes her work for Planned Parenthood, yet stands by her lovingly and patiently until she sees her error and leaves the clinic to begin working for the pro-life cause. In the movie, Doug is the bridge that connects Abby to the mercy of God. She could not get there on her own; she needed to experience God's faithful mercy and love through a human instrument. Similarly, we as Catholic Christians must be that strong and sturdy bridge of mercy to other post-abortive women who are in need of a loving hand to reach out to them and offer them a path to forgiveness.
How can women and men find forgiveness after participating in abortion? Jesus offers his Divine Mercy through the Catholic Church, especially through the Sacrament of Reconciliation. St. John Paul II issues words of hope and mercy in his encyclical Evangelium Vitae, the Gospel of Life, to women who have participated in abortions: "Certainly what happened was and remains terribly wrong. But do not give in to discouragement and do not lose hope." (EV, 99) The United States Conference of Catholic Bishops' website also includes a letter to women who have had abortions written by E. Joanne Angelo, M.D. offering mercy and consolation from the Church. Rachel's Vineyard offers weekend retreats to facilitate healing and restoration after the pain of abortion
Abby Johnson's story describes her path to forgiveness and reconciliation and offers hope to all who have been affected by this tragedy. A beacon of hope can be also found in the feast we celebrate in the Catholic Church this Sunday, the Feast of Divine Mercy. According to St. Faustina, who is known as the Secretary of Divine Mercy, Jesus requested that this feast be instituted on the Sunday following Easter Sunday. "On this day, he tell the whole world of My great mercy; that whoever approaches the Fount of Life on this day will be granted complete remission of sins and punishment." (Diary 300) Over a period of five years from 1934-1938, St. Faustina kept a Diary at the command of Jesus himself and at the order of her two confessors to "inform people of the goodness and grace of God." Jesus himself spoke to her and imparted messages to her for the world concerning His great love and mercy, relaying to her that mercy is the greatest attribute of God: "Every soul believing and trusting in My mercy will obtain it." (Diary 420) He requested that the Divine Mercy image be painted and honored, that the Feast of Mercy be instituted. He also taught her the Chaplet of Divine Mercy and gave instructions on the Novena leading up to the Feast of Mercy.
The conditions for receiving a plenary indulgence this Divine Mercy Sunday are as follows:
Sacramental Confession, about 20 days before or after the Feast.
Eucharistic Communion.
Prayers for our Holy Father, the Pope.
Participate in prayers or devotion of the Divine Mercy at a Catholic Church, or, in the presence of the Blessed Sacrament, recite the Our Father and the Creed, along with prayers to the merciful Lord Jesus, e.g. "Jesus, I trust in You."
Our world is in desperate need of the mercy of God. There is a chasm between us sinners and the infinite righteousness of God, and his Divine Mercy is the bridge that carries us from our imperfection to his goodness. Fallen as we are, we can not get there on our own but require his clemency and forgiveness. God's mercy is embodied in the Prodigal Son's father who sees the son returning from afar and goes out to meet him, bridging the gap between sinfulness and saintliness. It is noted in the man who leaves the ninety-nine sheep to go in search of the one, and in the woman lighting her lamp and carefully sweeping the floor in search of the lost coin. Abby Johnson herself, in the movie Unplanned, shows us that God's mercy is readily available for everyone, no matter what we have done. We are afforded an excellent opportunity for receiving God's forgiveness and mercy this Divine Mercy Sunday. We should take advantage of the abundance of graces he is offering us by participating in this great Feast.
(Image credit: Pixabay)