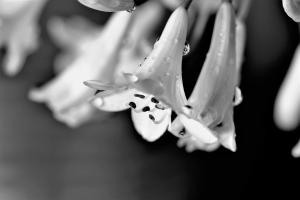 Jesus said that there is nothing concealed that will not be revealed. In this age of #metoo, the scourge of sexual assault and violence has begun to come to light, but the full extent of the damage has probably yet to be discovered.  Survivors of sexual trauma are left picking up the pieces of their shattered lives, sometimes with inadequate support.  Some are fortunate enough to have family and friends who support them in their healing, but many others don't know who to turn to or trust in dealing with their pain.  For those who are dealing with the devastation of sexual trauma, the story of Maria Goretti and her attacker can be a source of hope and healing,.
St. Maria Goretti, Virgin and Martyr
St. Maria Goretti is the youngest canonized saint in the Church, dying at age 11 trying to fend off a violent rape attack by Alessandro Serenelli, her 20-year-old neighbor who assisted her widowed mother with the work around the farm.  The two poor families lived side-by-side in Italy and Maria cared for her five siblings while her mother worked the fields to try and provide for the family.  Alessandro noticed Maria and began making inappropriate comments and sexual advances toward her, which she refused.  On July 5, 1902, Alessandro attacked Maria, who fought back.  As a result, he stabbed her numerous times, and she died 24 hours later from an infection.  She graciously forgave him on her deathbed, with her last words on earth being, "I forgive Alessandro Serenelli … and I want him with me in heaven forever."  Maria was beatified in 1947 and canonized on June 24, 1950 by Pope Pius XII.  St. Maria Goretti's feast day is July 6 and she is the patroness of youth, young women, purity, and victims of rape.
Finding Support
St. Maria Goretti did not survive her attack, but many people must begin the painful and often lengthy process of recovering and healing from sexual assault after the trauma occurs. Sexual assault can happen to anyone, and it is important to remember that it is not the fault of the survivor. Sadly, the victim of the crime often gets the blame; however, even if he or she put herself in a difficult situation, it is never their fault that someone committed an act of violence against them. Everyone deserves to have support after a sexual assault.  If friends and family are not understanding, there are resources and people who want to help.  Survivors of sexual assault should be treated with respect when trying to get help. As in any crime, the survivor has been violated and traumatized and it can take years for them to recover and begin to become healthy again.
Finding Forgiveness
For survivors, the act of forgiving can be the most difficult part of the healing process.  St. Maria Goretti was able to forgive almost immediately, which was probably due to her purity and virtue and because of a special grace given by God.  Forgiveness and healing often do not happen so quickly for survivors. The life of the survivor may be upended and shattered, and it may take years to come to terms with what has happened. The devastation left by the trauma can negatively affect relationships with other family member and friends. According to the National Sexual Violence Resource Center, violent attacks of any kind results in a loss of feelings of safety and trust no matter when the assault occurred, and it is common for the survivor to experience feelings of guilt, shame, fear, numbness, shock, and feelings of isolation.  NSVRC says "the long-term psychological effects survivors may face if their trauma is left untreated include post-traumatic stress disorder, anxiety, depression, isolation, and others." Trying to forgive while working through these difficult issues and emotions can be extremely challenging.  Finding a capable and compassionate spiritual director can help, along with frequenting the Sacraments and committing to a strong prayer life.
Resources for Support and Healing
How do survivors heal from such traumatic events? There are many resources available to help, including NSVRC and RAINN, which is the nation's largest anti-sexual violence organization.  Finding support from one of these or local resources can help, along with therapy and physical and emotional self care and safety planning.  Hopefully, survivors are able to find support and care in their local and church communities.  There is a need for advocacy and education to assist the supporters of those who are suffering, many times alone and in silence out of fear or shame.
14 White Lillies
The most amazing part of St. Maria Goretti's and Alessandro Serenelli's story is the conclusion.  While in prison serving a 30-year term for his crime, Alessandro said Maria appeared to him and presented him with 14 white lillies, symbolic of her purity.  This merciful gesture from heaven prompted Alessandro's conversion and contrition for his crime.  When he was released three years early due to good behavior, he asked pardon from Maria's mother, and she forgave him.  He spent his remaining years as a lay brother with the Capuchin Franciscans and died peacefully on May 6, 1970.  Maria's merciful forgiveness of her offender effected his conversion and lead him to come to know God and reform his life.  This is the power of mercy and love – it can change and heal hearts, bring about reconciliation, and help others to find salvation. Survivors of sexual assault can look to St. Maria Goretti as an example of love and mercy and ask her intercession in coming to the same forgiveness and peace. May we remember the story of St. Maria Goretti and Alessandro Serenelli when we must forgive any wrong done to us, no matter how difficult.