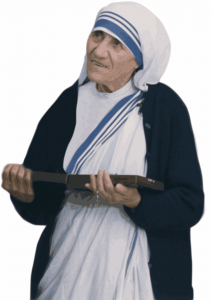 Humility is a virtue that is often not appreciated in our culture today. The spirit of intense competition and self-promotion that is common today is contrary to the practice of humility, and often hinders Christians who are seeking to deepen their spiritual lives and are trying to live the gospel values. I recently attended a retreat on the subject of the Spiritual Childhood of St. Therese directed by Fr. David Wilton of the Fathers of Mercy, who defined humility as "simply the truth that we can do nothing without God." It is complete dependence on God, not taking credit for our virtues, but acknowledging that they are gifts from God, and admitting our weakness and sinfulness. Three saints who exemplified this simplicity and complete humility are St. Teresa of Calcutta, St. Therese of Liseux, and St. Andre Bessette.
St. Teresa of Calcutta
In Malcolm Muggeridge's Something Beautiful for God, the author reveals that Mother Teresa requested he not approach the book as a biography of her life, but only write of the work that the Missionaries of Charity were undertaking for God. "The Work is his Work, and to remain so," she said. "…all of us are but his instruments, who do our little bit and pass by." Her words and wishes always demonstrated her profound humility, love for God, and love for the poor. She speaks to her sisters and Co-workers on the virtue of humility as such: "Let there be no pride or vanity in the work. The work is God's work, the poor are God's poor. Put yourself completely under the influence of Jesus, so that he may think his thoughts in your mind, do his work through your hands, for you will be all-powerful with him who strengthens you."
St. Teresa of Calcutta believed in the innate dignity of the poor that she served and never saw herself as better than them. In their everyday life, the Missionaries of Charity employ profound humility through their own poverty, becoming, as it were, servants of the 'poorest of the poor.' She realized the importance of her work but never became prideful about it. She believed that the work of the Missionaries was only a "drop in the ocean," but, she said, "if that drop was not in the ocean I think the ocean will be less because of that missing drop." She credited all of her success to God and trusted completely in him to fulfill his promises to her and complete the work she had begun.
St. Therese
St. Therese was the author and master of the "Little Way" of Spiritual Childhood. The Carmelite nun who died at the early age of 24 after suffering with tuberculosis wrote her autobiography under obedience to her superiors, in which she describes her life and details the genius of her "Little Way" of humility and abandonment and doing small things for God with great love. St. Therese encouraged a method of Spiritual Childhood in which we are aware of our nothingness and our dependence on God for everything. In living this model, we recognize our faults and weaknesses and are not discouraged by them, for, as she says, children fall frequently. According to Fr. Wilton, there are five characteristics of a person living the Little Way:
Littleness or humility. St. Therese teaches us that divine love lowers itself. The primary example is found in Jesus Christ, who lowered himself to take the form of a servant to others. When we are humble, we love the fact that we are weak and need God for everything. St. Paul states, "I will rather boast most gladly of my weaknesses in order that the power of Christ may dwell with me." (2 Cor 12:9) St. Therese's words mirror those of St. Paul, "By becoming little and weak for me, [Jesus] made me strong and full of courage, and with the arms He gave me, I went from one victory to another, and began to 'run as a giant'"
Poverty and detachment. These virtues are difficult to practice in our wealthy society where cell phones and television sets are necessities. We can employ fasting to help us achieve detachment from the things of this world and become more dependent, instead, on God for our happiness. The gospel warns us: "No one can serve two masters. He will either hate one and love the other, or be devoted to one and despise the other. You cannot serve God and mammon. (Matt 6:24)
Confidence in God. Rather than dwelling in self-sufficiency, we can learn to see God as our real Father and turn to him for all of our needs, believing that he will provide for all of them. This passage from Matthew's gospel encourages us to depend on God for all that we need:
"Therefore I tell you, do not worry about your life, what you will eat [or drink], or about your body, what you will wear. Is not life more than food and the body more than clothing. Look at the birds in the sky; they do not sow or reap, they gather nothing into barns, yet your heavenly Father feeds them. Are not you more important than they. Can any of you by worrying add a single moment to your life-span. Why are you anxious about clothes? Learn from the way the wild flowers grow. They do not work or spin. But I tell you that not even Solomon in all his splendor was clothed like one of them. If God so clothes the grass of the field, which grows today and is thrown into the oven tomorrow, will he not much more provide for you, O you of little faith. So do not worry and say, 'What are we to eat?' or 'What are we to drink?' or 'What are we to wear? All these things the pagans seek. Your heavenly Father knows that you need them all. But seek first the kingdom [of God] and his righteousness,* and all these things will be given you besides." (Matt 6:25-33)
Love. St. Therese tried to perform all of her actions out of love or charity. Even being the saint that she was, she experienced difficulties in exercising charity at times. She struggled particularly with one of the nuns in her convent, but rather than show her displeasure, St. Therese endeavored to be especially kind and generous to her, and the sister believed St. Therese was truly fond of her because of her efforts.
Simplicity. The saint tells us that every day is full of opportunities to be faithful, and that we should carry out our small tasks and acts with love for Jesus and with him. The world tends to overcomplicate things. When we are simple like St. Therese, we find peace and happiness because we rid ourselves of the burden of going in search of great acts to please God. We can love and serve him exactly where God has placed us, performing the duties that are before us every day.
Saint Andre Bessette
Born in Quebec in 1845, St. Andre Bessette (born Alfred Bessette) was a poor orphan, suffered from chronic health problems, and was poorly educated. Despite his lack of education, the Congregation of Holy Cross accepted him in 1870 and sent him to Holy Cross College in Montreal, where he served humbly and cheerfully as a lowly porter for nearly 40 years. He had an intense devotion to St. Joseph, who was his role model in humility, and whom he emulated in his role as doorkeeper. Through his constant and faithful intercession to St. Joseph, St. Andre Bessette was a counselor and healer to the many visitors who came to his door, and over time was given the nickname, "Miracle Man of Montreal." His humility was one of his outstanding traits, and he jokingly remarked about himself, "At the end of my novitiate, my superiors showed me the door, and I stayed there for forty years."His devotion to St. Joseph led him to help found the Oratory dedicated to the saint, and this shrine opened on October 19, 1904. In 1909, Brother Andre became caretaker of the shrine, where he continued his ministry of prayer and healing.
The Antidote to Envy and Pride
Under the Tenth Commandment, the Catechism of the Catholic Church describes poverty of spirit, or humility, as a virtue opposed to envy and a way to peace and happiness: "The baptized person combats envy through good-will, humility, and abandonment to the providence of God." (CCC 2554) Practically speaking, humility is a "taking the lowest place," a humbly submitting to God's will in all things rather than seeking our own will. It is allowing others the spotlight when we would seek it ourselves. It is letting go of control so that God can work in our lives and fulfill his plans rather than ours. We can examine the lives of these three Christlike saints, St. Teresa of Calcutta, St. Therese, and St. Andre Bessette, and others, to begin to grasp and emulate their self-effacing love and humility and practice it in our own lives. Most of all, we imitate the life of Christ and his Blessed Mother, the most perfect of all beings, to learn humility because they exemplified this virtue perfectly. A prayer I always turn to is the Litany of Humility, which is difficult to pray but is most necessary:
"That others may be praised and I unnoticed;
That others may be preferred to me in everything..
Jesus, grant me the grace to desire it."