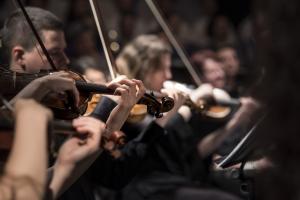 I attended my daughter's middle school Spring band concert this weekend and was impressed with the performance, especially the Beatles selection. I don't know much about music, but I do know that in order to produce a harmonious sound, each member of the band must follow their music and play their notes properly and in harmony for the piece to be successful. If one or more members is off key the music will sound noisy and discordant. Each instrument makes its own sound and performs it respective part. Working together, the different instruments create a beautiful piece of music.
The Church is One
Similarly, the first of the four essential features of the Church is that it is One – though made up of many parts, it maintains unity. "Christ bestowed unity on his Church from the beginning. This unity, we believe, subsists in the Catholic Church as something she can never lose, and we hope that it will continue to increase until the end of time." (CCC 820) According to the Catechism of the Catholic Church, it remains unified because of its source, the Trinity; because of its founder, Jesus, who, through his death and Resurrection restored unity to all people; and because of its soul, the Holy Spirit that brings about communion among its members.
Strengthening Unity: Charity Above All
The Church today is in need of a deepening of this unity and the bonds of charity which tie us together. We are a Church marked by diversity of people and cultures, which is a good and beautiful thing. Like the various instruments in the band, the members of the Body of Christ are blessed with a variety of gifts, and the members themselves are unique and diverse. With all of the differences, there are many conflicting voices and opinions, which often cause dissension. We should all be listening to and obeying one voice above them all – that of Our Lord, spoken through the successors of the apostles. How can we hear that voice above the din and commotion of the strife around us and increase the unity we seek? According to the Catechism, four elements can help us to strengthen the bonds of unity in the Church:
Above all, we should be practicing civility and a more cordial tone towards each other in debate and discourse. The Catechism encourages us most importantly to practice charity to all to preserve the unity in our Body. In the gospels Our Lord always treated his disciples and followers, and the crowds that thronged around him to see him, with compassion and respect. "This is my commandment: love one another as I love you." (Jn 15:12) Disagreeing with someone doesn't mean we must argue with them or despise them. We can agree to disagree and engage in civil conversation and debate and sometimes even learn from one another.
Profession of one faith received from the apostles, wherein we express our shared beliefs that unify us. Pope John Paul II said "believers in Christ, united in following in the footsteps of the martyrs, cannot remain divided. If they wish truly and effectively to oppose the world's tendency to reduce to powerlessness the Mystery of Redemption, they must profess together the same truth about the Cross." (Address following the Way of the Cross on Good Friday (1 April 1994))
Common celebration of the sacraments, especially the Eucharist. "The Eucharist is the efficacious sign and sublime cause of that communion in the divine life and that unity of the People of God by which the Church is kept in being." (CCC 1325) We are united as on in receiving the Body and Blood of Our Lord Jesus Christ.
Apostolic succession. Humbly submitting to the authority of the Church and the pope can also cause unity to flourish. When members of a community live in conformity with its civil laws and norms, the community will flourish and experience more peace and tranquility. Just so, we, as members of the Body of Christ, should exercise obedience to our Holy Father and the bishops, the successors of the apostles, to whom Christ passed on his authority, and to our priests, who receive their authority in the Sacrament of Holy Orders.
That They May All Be One
Pope St. John Paul II also noted, "If Christians, despite their divisions, can grow ever more united in common prayer around Christ, they will grow in the awareness of how little divides them in comparison to what unites them…" (Ut Unum Sint) If we endeavor to spend more time in prayer with the Lord, we can more clearly hear his voice and be one, first of all, with him. Fr. Mike Schmitz has said, "If I'm not willing to change my schedule so that I can spend time with Jesus than I'm not really a disciple of His." When we develop a habit of prayer and remain in communion with God, we will also maintain fellowship and harmony with his Church. "Christ always gives his Church the gift of unity, but the Church must always pray and work to maintain, reinforce, and perfect the unity that Christ wills for her." (CCC 820) Before his passion and death, Jesus offered a heartfelt petition to the Father for all who would follow him: "…that they may all be one, as you, Father, are in me and I in you, that they also may be in us, that the world may believe that you sent me. And I have given them the glory you gave me, so that they may be one, as we are one, I in them and you in me, that they may be brought to perfection as one…" (Jn 17:21-23) This was one of Jesus' final wishes: that we, his followers, would be united in charity. Should we not pursue and pray for this goal, the dissolution of division, to appease and satisfy Our Lord?
Conversion from Sin
Sin and its consequences cause us to hit the wrong notes on our instruments, bringing about confusion and threatening the unity of the band. We are all sinners in need of God's grace, healing, and conversion. The Catholic Dictionary defines conversion as: "any turning or changing from a state of sin to repentance, from a lax to a fervent way of life, from unbelief to faith…" Though we may be faithful Christians, we can always go deeper and be continually converted and grow in faith and virtue. It has been said that we can't give when we don't have; therefore, to help others to Christ we must first examine ourselves and ask God to change what needs to be changed in us. Pope St. John Paul II stated in Ut Unum Sint, "…there is an increased sense of the need for repentance: an awareness of certain exclusions which seriously harm fraternal charity, of certain refusals to forgive, of a certain pride, of an unevangelical insistence on condemning the "other side, of a disdain born of an unhealthy presumption." This conversion must occur on both a personal and communal level.
With proper tuning and much practice by each individual member of the band, all of the instruments come together in harmony. Exercising charity toward all is primary. Professing our common faith, frequenting the sacraments, and honoring the apostolic succession are all central to facilitating unity. In addition, practicing virtue and growing in holiness daily will lead to a more perfect performance of the instruments of our lives. We continue to come together to pray and worship in anticipation of the perfect heavenly orchestra we will hopefully participate in one day with God.
(Image credit: Pixabay)