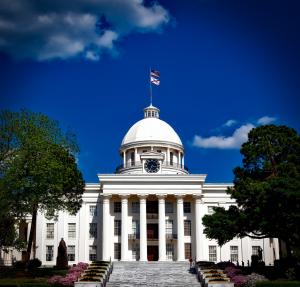 The Alabama State Senate passed the most restrictive abortion bill in the nation today, after considering several amendment proposals. Amid a host of strict bills that would ban or nearly ban abortion in several states, House Bill 314, "Human Life Protection Act" passed the House of Representatives by a substantial margin and today was approved in the Senate with a 25-6 vote. It heads to Governor Kay Ivey, who is known to be anti-abortion, for signing. The 'heartbeat' bill restricts abortions after a heartbeat is detected, about six weeks into the pregnancy, making virtually all abortions illegal in the state of Alabama. There is an exception in cases where "abortion is necessary in order to prevent a serious health risk," according to a CBS News article. Alabama Citizens for Life President Bill Klein says under the law, doctors could face criminal penalties for performing abortions. The 'heartbeat' bills constitute a push to attempt to make abortion illegal and to spark a Supreme Court challenge to overturn the 1973 Roe v. Wade ruling.
Bill Constitutes a Near-Total Ban
Several amendments were proposed and debated in a Senate committee, according to Mr. Klein. One amendment provides for exceptions in the cases of rape and incest; however, the bill passed without any of the proposed amendments. Mr. Klein says Alabama Citizens for Life opposed all amendments, asserting that, "a child conceived in rape is still a human being, and we don't think that child can be killed." According to the Washington Post, Senate Democrats conducted a filibuster for more than four hours, and all except one Democrat voted against the bill. Rep. Terri Collins (R), the sponsor of the bill said in the Post article that she is concerned about the needs of victims of rape and incest; however she wants to ensure that the bill is solid enough to eventually make its way to the Supreme Court.
Other 'Heartbeat' Bills
Four of sixteen states that introduced legislation this year have passed laws which ban abortion if a fetal heartbeat can be detected, according to a Reuters article. These include Georgia, Mississippi, Ohio, and Kentucky; however, none of the laws have gone into effect yet. Similar bills are being considered, not only in Alabama, but other states as well, including South Carolina and Louisiana. The Reuters article states that the Alabama proposal is the strongest bill, making performing an abortion a class A felony with a penalty of 10 to 99 years in prison. The bill does not impose criminal penalties on the women who have abortions.
Supporters Hoping for Challenges
According to this NBC News article, Elizabeth Nash, the state policy analyst for the Guttmacher Institute, which supports abortion rights, says the new proposals demonstrate a significant shift in approaches by pro-life legislators from small changes which hinder the functioning of an abortion clinic to near-total or total bans on abortion. Abortion opponents are hoping that challenges to the laws will end up before the Supreme Court, which is now comprised of a conservative majority after President Donald Trump appointed two new justices since taking office. However, in the NBC article, Clarke Forsythe, senior counsel for the anti-abortion rights group Americans United For Life, said it will be necessary to observe whether the Court chooses to hear several upcoming abortion-related cases in its pipeline, including one concerning a 2016 Alabama law which criminalizes second-trimester dilation and evacuation procedures. Forsythe believes that if the Court refuses to hear cases regarding second-trimester restrictions, it is not likely to accept cases considering first-trimester bans.