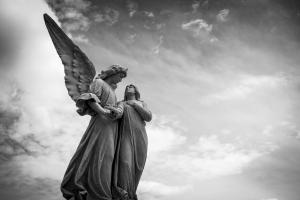 My friend Terri lost her battle with cancer about one year ago, on July 5, 2018. Through her suffering, she remained positive, patient, and upbeat and was an amazing source of strength to those around her. She never complained about her sufferings, but chose to offer consolation and guidance to others instead of focusing on her own deteriorating health. Our visits over coffee at the Waffle House were a source of comfort and inspiration to me and I still draw strength from her warm, motherly presence and words of advice.
Terri was truly selfless – always thinking of God first, then her family and others and always putting herself last. Her children are teenagers and young adults, and she imparted much wisdom to me about what it means to be a good wife and mother. Before her death, she gave me a copy of Stormie O'Martian's The Power of a Praying Parent, earmarked with colorful, fraying post-it notes lovingly placed there to mark the places of her favorite passages and prayers. I keep the volume close to me and carry it around at times, a remnant of Terri's strength and wisdom that continues to guide and support me as my girls enter the tumultuous teenage years. When I have a quiet moment, I open its pages and pray for my children as she did for her own while on earth and I know continues to do with the Lord. I know she is with me, praying for my family and me, along with all of her family and other friends, and interceding with the Father for us, just as she always did while among us.
She is one of three close, saintly friends who I have lost in the past few years, whose memory I cherish and whose example I remember and look to when I am in need of wisdom and guidance. Mary was a dear friend with whom I was blessed to share the early years of marriage, babies, and raising young children. She passed away in 2017, leaving her husband of 16 years and three children. Mary was devoted to the Lord and her family and was a friend to everyone. Our friendship was strong and honest, and we were able to share just about everything with each other, especially our love of coffee and Thai food. We connected on a spiritual level that I have not shared with anyone else. When she became ill, it was devastating to me and I had a very difficult time accepting her illness and death. I had never lost someone so close to me, and I truly did not know how to handle it. The tears still come today when I think of her. I only thank God that we were able to have the time we did together and the memories we share are priceless.
Veronica was, I believe, a victim soul. She suffered countless physical ailments, and was visually impaired. The times I spent with her brought me closer to God in a way that no one else has. She required much assistance because of her handicaps, especially in her later years, but I can honestly say that every moment I spent with her was a joy and a blessing. She, too, didn't complain about her illnesses and disabilities, but accepted the suffering peacefully and offered it all up to the Lord. She was very prayerful, and I know her prayers were, and are still, powerful with God. Like her namesake who wiped the disfigured face of Jesus on the Way of the Cross, Veronica eased the suffering of Christ by bearing her own hardships patiently on this earth. She was given all of the crosses she had to bear because she was precious to Jesus and he knew she would carry them heroically.
My three friends, who I hope and believe are in heaven with the Lord, and like all the holy souls who have gone before us, are powerful intercessors with God for those of us still here fighting the battle on earth. I still talk to them and they make their presence known to me when I listen very carefully. We can ask our beloved friends and family members to pray for us, as they are close to God and are able to help us in all of our needs.
Eternal rest grant unto them, O Lord.
And let the perpetual light shine upon them.
And may the souls of all the faithful departed, through the mercy of God, rest in peace. Amen.
Image by <a href="https://pixabay.com/users/karigamb08-2133830/?utm_source=link-attribution&amp;utm_medium=referral&amp;utm_campaign=image&amp;utm_content=1655378″>Karina Cubillo</a> from <a href="https://pixabay.com/?utm_source=link-attribution&amp;utm_medium=referral&amp;utm_campaign=image&amp;utm_content=1655378″>Pixabay</a>