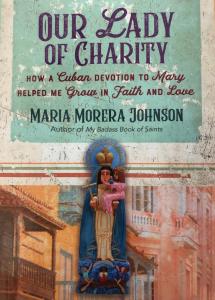 The virtue of charity is one that should be reintroduced and resurrected in today's world. What is charity? According to the Catechism of the Catholic Church, "charity is the theological virtue by which we love God above all things for his own sake, and our neighbor as ourselves for the love of God." (CCC 1822) As I was reflecting on this virtue, I was prompted by the Holy Spirit to remember the story of Our Lady of Charity, which I learned of from my friend Maria Morera Johnson's book, Our Lady of Charity How a Cuban Devotion to Mary Helped Me Grow in Faith and Love.
You'll have to read the book, but the devotion originated with a miraculous rescue some four hundred years ago by Our Lady of three men caught in a storm off the coast of Cuba. Over the generations, Cubans have handed down the tale of "the three Juans" and have cultivated a strong devotion to Our Lady of Charity which endures today. Maria has intertwined the rich, tumultuous history of the Cuban land and their devotion to Our Lady under this title, Our Lady of Charity, the patroness of the country, with her own tale of pilgrimage back to her homeland and the deepening of her devotion to Mary. During her visit to Cuba, she spied Our Lady of Charity, or "Cachita," which comes from the Spanish Caridad, or "Charity," everywhere, and this solidified her devotion to Mary under this title.
Maria's connection to and love for Our Lady of Charity is profound and inspiring. From her father being consecrated to Our Lady of Charity to the stories she remembers her family relaying about the virgencita, or "little virgin" and the roots of the Cuban people, Maria's story helps us to understand and believe in the love of God our Father and the Virgin Mary and the importance of embracing our culture and history in understanding ourselves. As an immigrant to the United States, she describes herself as a "pilgrim," embodying and cherishing the cultures and traditions of both Cuba and the United States. She reminds us that "no trial is too small or too large for Our Mother," and that whether we are of Cuban descent or not, we all belong to Our Lady of Charity.