Every close relationship has moments of magic. They might be soap bubble fragile, so ephemeral that they can't be spoken of, and you might wonder if you're the only one carrying them in your heart. But still, they are there, part of the warp and woof of your life.
Father-son relationships can be difficult at times. One doesn't have to buy into Freudian oedipal theories to see the potential for friction as a young man tries to assume the same stature as his father, while a father tries to guide his son into an appropriate version of manhood.
My father and I do pretty good, I think. And our relationship has deepened over these past few months when first my mother and then he himself have had serious medical crises. It's made for some deep conversations about life and death and everything in between.
Dad is still recovering his strength after his bout with pneumonia, but he came home from the rehabilitation center on Thursday. He met his goal to be home by St. Patrick's Day — not because he's of Irish ancestry (he's the grandson of Polish immigrants), or to celebrate Mom's, but because March 17th marked the 50th anniversary of his return from Vietnam. So welcome back to the world, Mr. Mark.
I should perhaps explain that generations of kids in our neighborhood knew my parents as "Mr. Mark" and "Miss Sue" from Dad's work in rec league baseball and Mom's work in schools. So these are affectionate nicknames — I do not have some strangely formal relationship where I address my father as "Mr. Mark" all the time.
But we've had our rough moments over the years. There's one that I've never spoken of with him, that was one of those soap bubble moments. I was home from college for the weekend, and we were running errands. He was driving — I have it in my mind that we were in Essex, on North Point Road. We had had some small argument, I can't remember what it was — one of those frictions.
And we now rode in a difficult silence.
And Chuck Berry came on the radio. "Johnny B. Goode."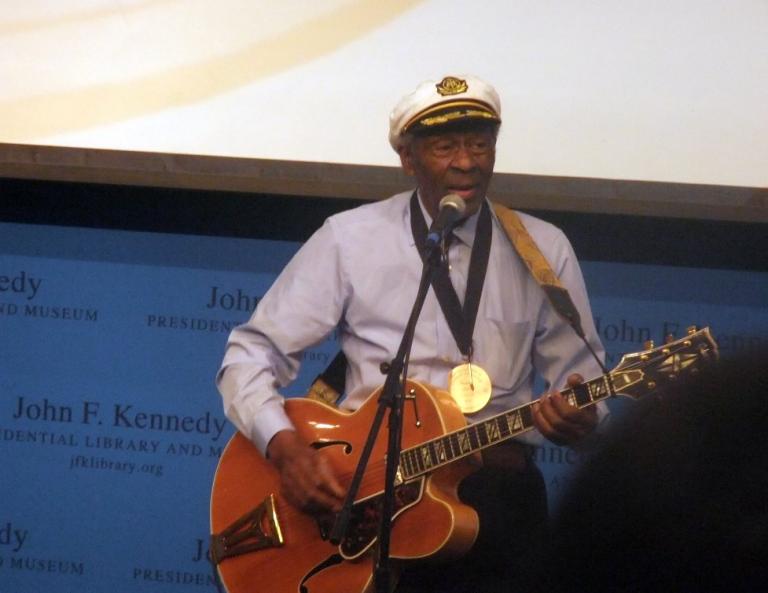 And we both, softly, started singing along.
And with that, with both of us reacting to the music in the same way, suddenly my perspective shifted. I could for a moment see Dad not just as Father, but as a man, not unlike myself.
Berry's music reached into a rough moment in my life, and made it not just smooth, but magical. Thank you, Chuck Berry. Carl Sagan and Ann Druyan chose well when they selected "Johnny B. Goode" to appear on the golden record attach to the Voyager spacecraft, a recording meant to last for a billion years or more.
---
You can keep up with "The Zen Pagan" by subscribing via RSS or e-mail.
You can help send me to Japan this spring for a once in a lifetime event!
Details TBD, but I will be at the Free Spirit Gathering and the Starwood Festival this summer.
If you do Facebook, you might choose to join a group on "Zen Paganism" I've set up there. And don't forget to "like" Patheos Pagan and/or The Zen Pagan over there, too.