Photography sent my father to Vietnam.
He was the photographer for his high school newspaper. He was something of an aimless kid, but this was something that interested him. When the Air Force recruiters came to his school his senior year, in late 1962 or early 1963, they told him, "Hey, you're interested in photography? Well young man, we do a lot of reconnaissance photography. Sign up and we'll give you a whole bunch of training that will set you up for a civilian career later."
At the time we had "advisors" in Vietnam, but this was before the Gulf of Tonkin fakery that drew us deep into the war. Dad didn't sign up thinking he'd be sent overseas; certainly not that he'd be trained as a Air Policeman rather than a photographer. (And he certainly didn't expect to be poisoned by dioxin contamination in "Agent Orange" defoliant.)
So his plans to move into photography as a profession didn't work out. When he came back to the US, his uncle advised him to get in on the newest thing: computers. But he kept up photography as a hobby.
I had my little 110 camera but didn't go beyond that as a kid. My brother became interested in photography in high school — I have a great photo he took of me breaking a stack of boards at a karate tournament — but didn't sustain it.
But I started to get interested when digital cameras came out. In the 90s I had a Casio QV-10 the first consumer-grade LCD digital camera. As the web started to become a thing, the utility of digital photography became obvious. And I discovered that image editing software could do more than crop and zoom and brighten images, it could be put to creative ends.
And I've found that dipping my toes into digital photo based art has helped me better understand the visual arts in general.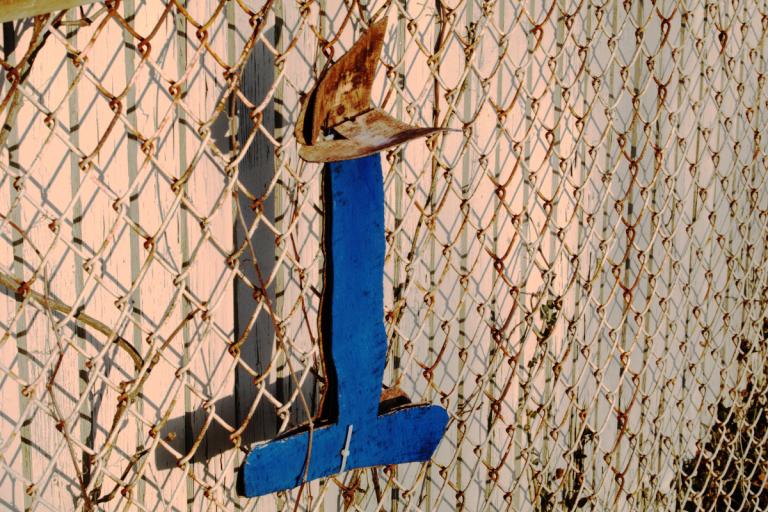 Which takes me to this week's entry in my 52 makeup challenge. I took my Pentax DSLR (not a fancy camera, but light-years beyond that old Casio!) out around the neighborhood looking for something interesting to take a picture of, and found this delaminating plywood numeral 1 zip-tied to a fence near the local elementary school. At one point I think there were numbers 1 through 6 for some school activity, but now just this 1 remains. I found it visual striking, so, boom, this week's art.