Dear Mr. Manilow,
The last thing my father did in his life was take my mother to see your September 16th show at the Turning Stone Casino.
They were celebrating her survival and recovery. Last September, Mom fell critically ill. She was not expected to survive, but she fought her way back to life, spent weeks in the ICU and months in rehabilitation, and came home on January 6th — my father's birthday. (We played your music for her while she was comatose.)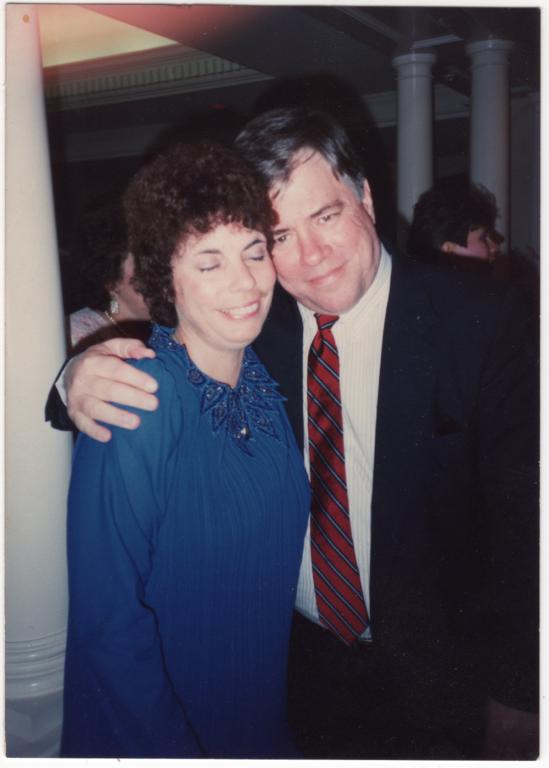 Mom has been a fan of yours since the 1980s. She's been a member of several fan clubs, seen you more times than we could count. She's met you in person a few times, though I'm sure you don't remember her specifically. (Though, I don't know. Maybe the name "Suzanne Swiss" did stick with you somehow.)
When Dad found out that you were playing a show so close to the anniversary of her illness and her survival, he immediately made plans to get tickets.
They were overdue for a good time together. It wasn't just Mom's illness, or the fact that Dad had been in and out of the hospital several times as well. Things had been rough for the past few years.
Dad's health issues, which partly resulted from his military service in Vietnam, had reduced his ability to work and just about destroyed the family finances. Mom's own ability to work had been restricted by an serious injury she suffered while working as a nurse in the early 1990s. But after going through bankruptcy and being forced into retirement, Dad had started to get disability payments from the VA and was starting to see some light, financially.
So he splurged on the tickets and a hotel room, and new tires for the car for the drive.
And they had a wonderful weekend together.
Mr. Manilow, thank you for that. Your music gave my parents a final happy time together.
On the drive home, Dad mentioned he was feeling tired. He and Mom both slept in the next day. But when he wouldn't get out of bed by the afternoon, Mom was worried. She remembered how he'd had double pneumonia back in January but didn't want to go to the hospital. She told him if he didn't get up, she was going to call the paramedics.
He sat up for a minute and made a few jokes, but slipped back asleep.
By the time the paramedics got there, he was gone.
*  *  *  *  *
Dad had been through bankruptcy a few years ago. There are no assets, no savings. He had repeatedly taken out loans against the home equity; there's nothing significant there, as a practical matter the house may even be underwater.
Dad had recently taken out a small life insurance policy to cover his final expenses and at least a few months of Mom's bills. But that policy will not pay out, because he died too soon after taking it out.
Besides the funeral expenses, Mom has inherited several thousand dollars in debt Dad had taken out in both their names, as he tried to restore his credit post-bankruptcy.
They were getting by on both their Social Security plus Dad's VA disability, plus a low-paying part-time job of Mom's. Most of that income is gone now.
Of course I'm going to help as much as I can. But I don't have thousands in savings to pay those funeral expenses or that debt. I can't pay the mortgage to keep Mom in her house, and mine too.
(Indeed I had "lent" Dad several thousand dollars over the years, and one of the last conversations we'd had was about how he wanted to start paying that back now that he was getting back on his feet. I sure could have used any repayment, but I kept putting him off.)
*  *  *  *  *
Mr. Manilow, you don't owe my mother anything. Only a fool would claim that an artist, even a highly successful one, owes it to his fans to come to their financial rescue.
But it's my Mom.
And so I'll take any chance I can find, including the chance that this might go viral enough on the web for you to see it, and that you might be moved enough to help. Or that perhaps some of Mom's fellow "Manilow Maniacs" might see it and want to help.
If you do see this, thank you for taking the time to read it. Thank you for the music my mother has enjoyed so much over the years. Thank you for giving them that last weekend together.
I have no right to ask more of you. But I will anyway. Because it's my Mom.
Mr. Manilow, would you please make a contribution to the GoFundMe I've set up for my mother? You could even do so anonymously, so that other fans don't come knocking.
https://www.gofundme.com/help-miss-sue-pay-mr-marks-funeral
And anyone else who might read this: please. Please. Help my Mom.
Thank you.