Last year at this liminal time, all I could think about was that my mother was, miraculously, not dead. It blew right past my concerns about the conflict between the commercial candy holiday, the cultural celebration of the scary, and the commemoration of the dead
Mom has made an amazing recovery since then, fighting her way back to life and heath.
But my father passed away suddenly last month. (While he left behind many lessons and a lot of love and lives touched, financially he left nothing but debt, and I am actively begging the world for money to pay his funeral expenses and help keep Mom in her house.)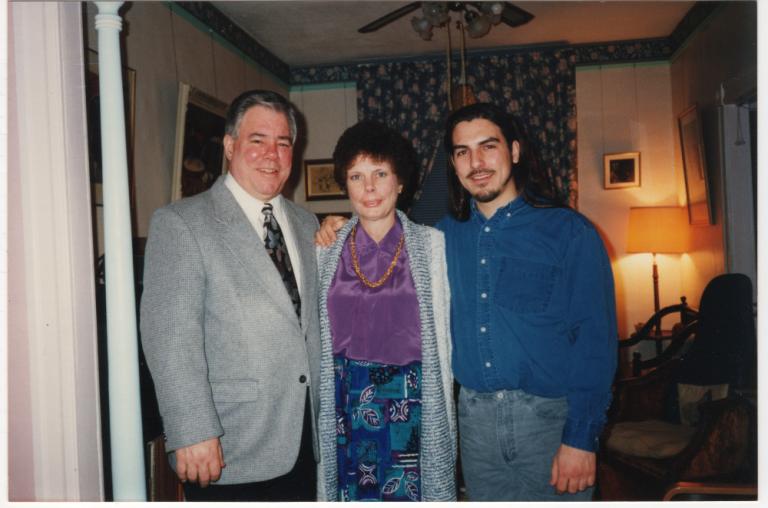 There is a tradition in Japanese Buddhism of shijūkunichi, forty-nine days — seven weeks — of mourning. By that reckoning this Samhain finds me in a liminal space, not only falling within those forty-nine days but beginning the final week.
(I cannot help but notice that my mathematical, pattern-scanning side, the part of my brain that thinks to count days like that, comes from Dad. He was a first-generation computer programmer, COBOL and punch cards and such.)
I've never been much on ancestor work. There are several reasons for that, but as I do a little self-examination I find that one of them was that I've been content to stand in my father's shadow in some ways. It's not as if there were anything formal or spoken about it, but he was the head of the household, the eldest son of his parents, and if there were a family altar to the ancestors it feels like it would have been his duty and privilege to maintain it.
Dad was not the eldest child, but the eldest son; and while we can argue about gender equality "shoulds", and his older sister, my Aunt Marcia, was as competent and capable as feminist as they come, we also have to deal with the culture of here and now, and the gender expectations it puts on us and encourages us to put on ourselves. I could see that weight settle on Dad after his father died. Indeed, perhaps a similar weight settled on Aunt Marcia when my grandmother died, maybe it has more to do with our gendered relationship with our parents than with who is the eldest.
But I digress. The point is that my father's death puts me in a different relationship with my ancestors, and I will be contemplating that this Samhain.