I spent last week at my twentieth Free Spirit Gathering. I was reminded of the anniversary a few days before the festival by noticing the "FSG 1998" tent tag that hangs on my rear-view mirror along with a collection of other charms.
(For the mathematically inclined: I do not have a fencepost error here, I skipped one year for reasons that don't concern us here. So the twentieth anniversary is also the twentieth event.)
And Friday at FSG — the day of our main ritual — would have been my parents' fiftieth wedding anniversary, had my father survived a few more months.
It made for a complicated mix of emotions at my home event, a place where I've been everything from kitchen help to a stage hand to a (sometimes paid!) performing musician to President of the presenting organization, the Free Spirit Alliance.
The theme for the festival this year was "Refresh Renew Recommit Replenish", and I certainly needed some refreshment and renewal.
Like many Pagan festivals, FSG has gotten smaller over the past few years. But I got to see many friends who I rarely see outside the festival. One of them is my blogging neighbor Thorn Mooney. She and I sat down and recorded a video blog — I'm very happy with how it came out, so if you have forty minutes you might watch us talk about Pagan festivals and how they can "re-wild" Paganism, along with random topics ranging from the relationship between the Industrial Revolution and the Pagan revival to losing your pants. (If you like it, we might do it again at Starwood, where we will both be presenting — let us know!)
I'm already looking forward to next year. The theme and art for FSG 2019 have been chosen: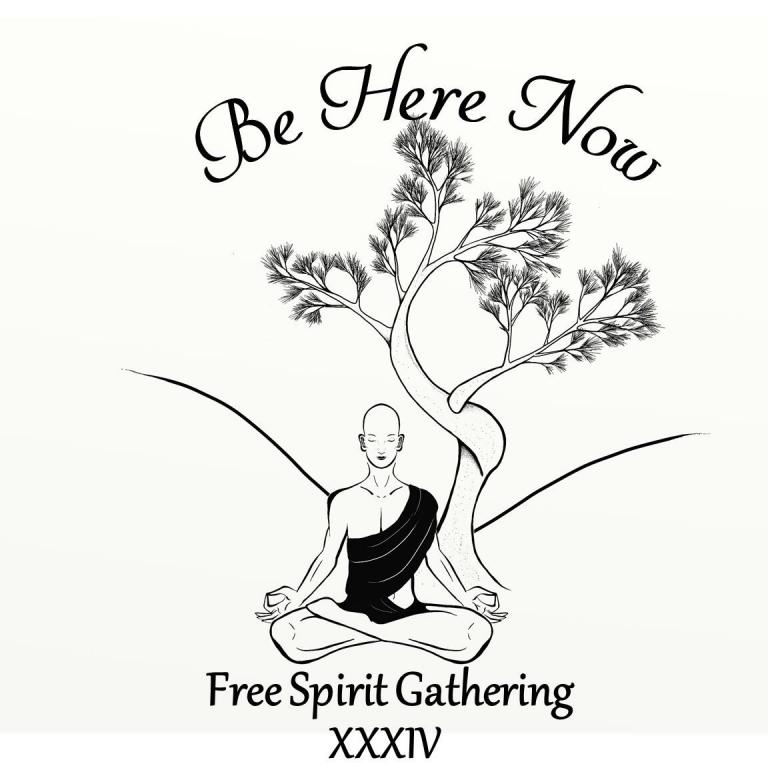 And if you've seen my book, that Buddha under a tree might look familiar. It wasn't a deliberate invocation, but FSG seems to have summoned me for next year, so I'm submitting a proposal for the ritual track and will be talking with the leadership about bringing more Buddhist Paganism to the event.
So watch for more news coming about next year's Free Spirit Gathering; and if you're interested in the Buddhist/Pagan intersection you might start thinking about plans to attend FSG XXXIV, June 11-16 2019. And even if dharma Paganism isn't your thing, FSG is always a smorgasbord of spirituality, a deliberately interfaith solstice celebration that welcomes all.
---
You can keep up with "The Zen Pagan" by subscribing via RSS or e-mail.