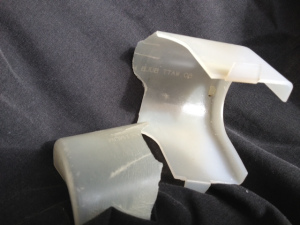 A few weeks ago, in a need to do something that I could start and finish, I cleaned the stove. When I took off the light cover from the stove vent hood so I could wash it, it promptly broke.
"No problem," I thought.  "I'll just get another one."
Placing the broken on in the car, I decided that the next time I was near one of the large, big-box, home improvements stores, I would get a replacement.
A few days later, I the opportunity, so brought it with me and began to look for assistance.  After a long wait to flag down an apron-clad person whose job is to help people like me find what we need, I heard the news, "Well, we don't actually carry those.  However, I'll give you the number of the parts person and you can get in touch and find what you need."
After returning home, I discovered I could get the info off the website.  A neck-twisting moment of getting the model and serial number later, I confidently typed in the information.  A few seconds later, a photo of exactly what I needed popped on the screen.  Success!  Except . . . they didn't have any.  They suggested doing a web search for the product.
Not deterred, I did exactly that.  Quickly, the cover I needed popped up.  I headed to the website and . . . they didn't have any.  A little longer search and I learned that the stove manufacturer no longer made this cover.
I searched a little while longer and, eureka!  I found it!  Yes, one obscure parts store had one.  And they were charging $54 for it.  Yep, $54 for a cheap piece of plastic.
I rebelled.  Just not going to do this.  The last and final suggestion after more web searching:  go to some local appliance dealership (NOT a big box store) and see if by chance they had one in their parts inventory.
Last week, I did just that.  Went to McNeill's Appliances in Denton.  Within seconds, I was greeted and introduced to their parts expert.  I explained the situation, and showed her the cover.  About 1/2 second later, she said, "You are right–they are no longer manufacturing that part–but another manufacturer is and I think I've got one here."
Three minutes later, my purchase completed (for about $7.00), and warm Christmas greetings exchanged, I walked out knowing that when I do need to buy another large household appliance, I will go there to do so, even though I might pay more for it.
The Connection with the Consumer-Driven Church
Recently, I wrote a series of posts about my concern over the Consumer-Driven Church model.  The question I am asking, "Can a consumer-driven church actually create disciples of Jesus Christ?"  Now, I'm defining a consumer-driven church as one in which all stops are pulled out to keep the extremely fickle "consumer" i.e., potential church-goer, happy.  I've received some very good and thoughtful replies to that post and have been thinking about it some more and wish to clarify my thoughts:
First, should we do every single thing possible to give people an excellent church experience?  Yes, I think so.  Facilities need to be clean, directional signs abundant, and barriers low.  Welcome should be both fully warm and extremely sensitive to different needs as people enter.
Second
, should we utilize technology in order to ensure that the Gospel is heard in the ways people are experience the rest of their lives?  Yes.  I even wrote my D-Min project on the use of multi-media in worship.  I learned, though my project, that the good use of multi-media made the message far more memorable and understandable to anyone who has been raised in the world of receiving information visually.  Most auditory-only messages quickly go out of the brain.  A well-prepared message with multiple sensory and visual enhancements has a much better chance of longer impact.
What's The Problem?
So what's the problem?  Let's assume for a moment that there are some parallels between the mega-church model and the big box store and the smaller church and the local, family owned business.  The level of personal connection changes radically from one to the other, but so does the cost-effectiveness of the operation.
I don't think it is possible to mass-produce disciples.  I do think it is more cost effective, however, to mass produce church members/attenders.  From what I have both experienced and seen elsewhere, the art of discipleship is honed by deep, one-on-one interaction.
There's nothing new to this idea.  Jesus had hundreds, even thousands of followers, twelve whom he formally named as followers, and only three who were apparently given greater, intimate knowledge of their Teacher.
I am guessing we need a means to gather together the hundreds and the thousands, and the consumer-driven church model may indeed be the best way to do that.  But we've also got to enhance the relationships between just the one and the few.
And here's where I get stuck.  I am aware that, as pastor to a medium-membership church (just barely over the line from a small membership church), I can effectively disciple only a few.  Technically, if I want to really grow my church, I don't spend a lot of time on those intense, often complicated relationships.  I'm out doing visionary things, painting big pictures for my leaders, making multiple contacts in the local community, honing messages and organizing the kind of worship that leaves people saying, "Wow!"
I'm also enabling an effective PR machine, am adept at all social media outlets and spend much of my life composing 140 character "tweets" that will have people panting for more.
And yes, I know the drill:  disciple those who will disciple others who will disciple yet more.  I'm also aware that the further those groups grow from the source, the more likely there will be a lack of overall cohesion.
Many fast-growing religious groups have grown on that small group model because it is a tightly controlled one.  People are taught exactly what to teach others, and standardized material is used across the board.  That's the big-box church style:  standardize as much as possible because it enhances efficiency and cost-effectiveness.
Doing tailor-made, individualized discipleship takes massive amounts of time and energy. And its costs more.
I think we need both.  I know I am who I am today both because of the standardized, mass-produced model (I was a part of Campus Crusade for Christ when it was doing its most rapid growth and expansion) and the powerfully individual time I received from many who were willing to invest in me, especially as I entered into a time about 25 years ago where I had to completely re-think my theological constructs.
We're going to have to address the issue of cost-effectiveness if we are going to live out our mission of making disciples.  The more we buy into the big-box model, the more successful we may become on one level of measurement.  I just continue to fear we will lose our soul and our real purpose in the long run.