The real craziness of the organizational day is just about to start. I'm going to sign off here and start a fresh post. Forgive me for the typos and run-on sentences. All written quickly. Hope we all survive the afternoon. 
---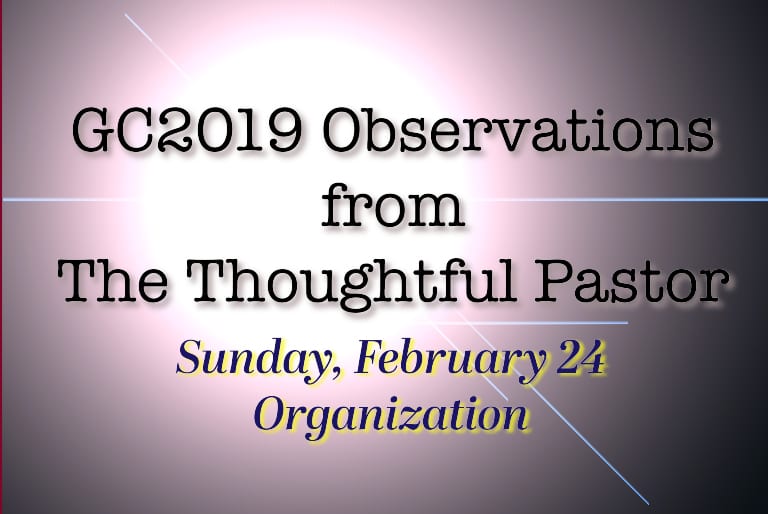 ---
I started writing this at 10:30 am. To that point, opening at 7:30 am, we had spent an hour in worship. Then a break. Then singing. Then "setting the bar" of the Conference (I've yet to figure out what that means except it is a way to include/exclude who gets to go where–and the press is very much excluded here).
Since then, it's been introductions, lists of names, talking, talking, talking about the Commission on a Way Forward.
They've reviewed The Way Forward process. Frankly, if the delegates didn't come prepared by having already read this, they should not be delegates.
Now, they are talking about the pressure on those poor people who were on the committee. Sigh. As it right now displayed on the screen, everything thing he is talking about is already printed in the  ADCA, page 126.). Yes, it's no fun to read through this, but it's what guides us and every single delegate should be intimately familiar with it. Again, if not, they should not be serving.
Everything is translated from English into French, Portuguese and Kiswahili for the people speaking the different languages. I just don't get this kind of waste of corporate time. There is too much to be done today.
Now, the next speaker refers us to p. 127 while she reads what is written there and also displayed on the screen. Apparently, we have a bundle of first-graders as delegates.
Now, a passionate defense of the One Church plan has been offered. It's 10:45.  At 11:00, a defense of the Traditional Plan begins. Again, the presenter reads from the CDA.
Summary by Bishop Carter: 11:15. Affirms that the Commission on a Way Forward very much endorses the One Church Plan, even though the three plans were all offered by the Way Forward commission. Now, it is the time for the delegates to discern the way forward for the UMC. The work is now officially in the hands of the delegates.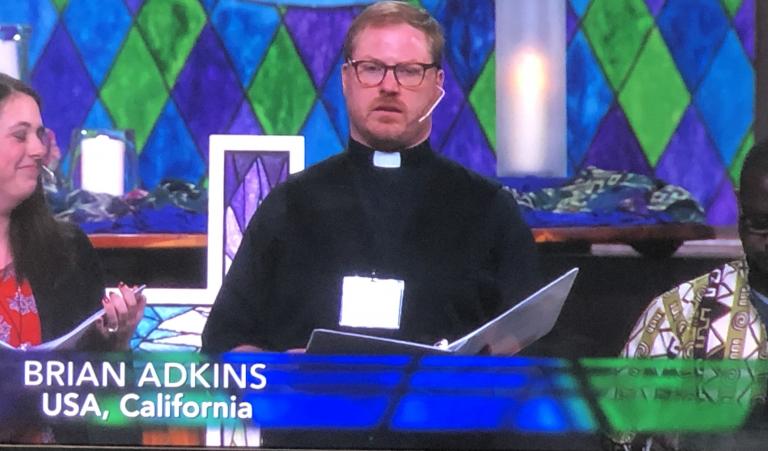 Well, not quite. Four other people are on the stage talking about the commission again and defending the work of it. She says they were angry, vulnerable, broken. They confessed and repented, asked for grace and forgiveness, and kept pushing forward for results.
Ultimately, they chose love over fear, committed themselves to understand one another rather than trying to change one another, agreed to gentle compassion rather than angry accusation. They discovered they could challenge without accusing.
They shared communion, sang hymns, studied scripture, heard each other witness and testimonies, prayed earnestly for each other, shared their anxieties and joy, grieved and celebrated, both professionally and personally. They came to know one another's families. At the end, they were very real to one another.
At this point, Brian Adkins, an openly gay pastor, speaks his passion for full inclusion.
Now another call for prayer. Complicated directions–go into groups of three, decide who goes first, other people put hands on shoulders.
At about 11:45, the decision by the Judicial Council was reported that two of the legislative items presented in the Modified Traditional plan were deemed unconstitutional.
Now, a word of thanks has been offered to the Bishops for all their work. I hear continued mention of the anxiety in the room–it must be palpable down there. Up here in the nosebleed section, we're all essentially glued to our machines, writing, reporting, doing our best with telephoto lenses to get something visual.
And still nothing to even try to make sense of. Continued grumbling from the press about the lack of access to the floor of the conference. Impossible to catch delegates during breaks for quick conversations, no way to adequately observe how they look, their demographic make-up, the facial expressions that say so much.
---
Already wiped out
And I've been sitting and writing for hours and I'm already wiped out.
We broke for lunch. I suggested we get something from the concessions–and then discovered that there was not one safe option for my gluten-free body. I'm here working with Cynthia Astle and her husband for UM Insight. Her husband, John, graciously offered to run out to a nearby salad place to get me something. I was grateful.
Bishop Hope Morgan Ward was appointed the presiding officer for the afternoon. She has opened the session, and now there is a voting machine test. We've been told what page of the ADCA is the one we need here.  This is the official document of the GC and is added to each day, made available electronically to everyone and I think the delegates also get print copies. I've got my own print copy of this original one (nearly 300 pages) but the supplements for me are all electronic.
Now, the work on the part of the delegates begins. They will be deciding the order by which the various presentations will come before the legislative committee (the same 864 people that will decide the order) tomorrow. Here's a copy of the prioritization plan. So each piece of legislation (there were 76 but two have been ruled unconstitutional so I don't know if they get included in this) will get an up or down vote. When all is done, the piece that gets the most vote will be considered first, and so on.
And I can't even imagine the kinds of instructions the delegates have been issued by their various handlers to make sure they get things before the committee in the order that they want them.
OK, the stuff from the floor has already started. One person is calling for some sort of judicial ruling over a piece of legislation. Unfortunately, this is moving faster than I can record what is going on. From what I can tell, it's a question of the abilities of the General Conference to set standards of ordination, which are actually controlled by the Annual Conference, the basic unit within the United Methodist Church. And if you understand what I just wrote, you are a well-accomplished methonerd.
And there is our problem: We have an exceedingly complicated structure. Few can really understand it. This particular motion is now on the floor, been seconded, had a three minute speech in favor of it, and now they have to vote and probably 90% of the delegates have zero idea upon what they are currently voting. I am sitting right next to one of the most experienced reporters for the United Methodist Communications, and she is pretty sure she understood what just happened but she is still checking it out.
In the meantime, they just announced that only 820 of the 864 voting machines are properly connected to the main computer, so that means that 44 delegates  are not currently having their votes recorded. Or, 44 didn't come back from lunch or are absent from their seats and they apparently don't have a way to verify attendance of the delegates.
OK, I'm going to sign off here. Forgive me for the typos and run-on sentences. The real craziness of the organizational day is just about to start.
---
Photo credit: (c) Christy Thomas; Screenshot from the conference, taken by Christy Thomas