I really should not own a car.
Hold that thought for a moment while I offer the story.
I had walked to a nearby church on Sunday morning for an early service. A couple of minutes after I returned to my apartment, someone knocked on the door. I opened it to find the neighbor who lives directly below me.
"Come here" he said, beckoning to the balcony.
"There's something you need to see."
I walked over and he pointed down to my car and said, "You have two flat tires."
As I stood there in shock, he also noted that his truck license plate had been folded in on itself and that my car, along with the one next to me, had its windshield wiper blades ripped from the wipers and sitting on the car hoods.
I looked at him dumbfounded and said, "What do I do now?"
His response, "There's a tire place near here. That's all I can tell you."
Remember what I wrote above? I really should not own a car.
All mechanical things are mysteries to me. I have no idea what to do when something goes wrong and have only the barest of ideas on how I am supposed to maintain an automobile. I once drove around with a flat tire wondering what on earth that "flap, flap, flap" sound was about. It's really sad.
The wonderful people at Spencer's Auto Repair in Krum have taken pity on me over the years. I periodically drive there and say, "Here, do whatever it is that is supposed to be done."
But they don't do tires. More, I clearly needed a tow truck.
And, I had forgotten to renew my AAA membership when I bought this car, as I had not needed it with my previous car.
Determined not to let this get me down, and with all tire shops closed on Sundays, I resolutely set it aside for the day and went on with other activities.
Monday morning, I woke early, and picked up the phone. OK, another thing I hate is making phone calls. Receiving them, texting, email is fine. This is a genetic thing: my mother was so much the same way.
But sometimes a call is necessary.
When I moved to Denton a few months ago, I made a decision to shop as much as possible at locally-owned businesses, wanting to do my small part to keep those kinds of enterprises alive. So I called Briscoe Tire and Alignment, having learned that they are a Denton business. The added advantage was their location: within walking distance of my apartment.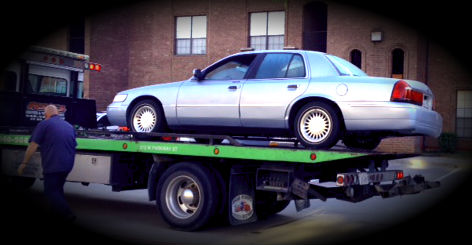 The extraordinarily nice gentleman who answered the phone quickly understood both my car-owning incompetence and my distress over the situation.
He gave me the number of the tow company to call–and told me to use his name and thus secure a good discount for the service. In just a few minutes, a driver from Ron's Wrecker and Towing Service showed up, quickly got my car loaded and took off with a friendly wave.
Just over an hour later, all was repaired and I was preparing myself for the bill. When he told me the amount, I nearly fell over in shock.
"That's all?"
"Well," he said, "I can charge you more if you want, but that's all it cost, including the towing and windshield wiper blade replacements."
Then he said, "No tears now. And bring your car by periodically so we can check the pressure for you."
I think I love living here. And I hope anyone who needs tire services will use this great business. They coupled kindness with competence–the best business model ever developed.