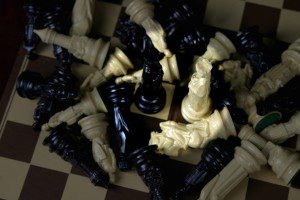 Dear Thoughtful Pastor: Is there or should there be a push for an inter-faith message transmitted via sophisticated communication media that counters the narrative ISIS is using to seduce young people?  I don't mean inter-faith get-togethers, which we already have, but rather a strong, concerted outreach to young people that offers what they seem to be looking for in jihad, meaning and affiliation. To me, this battle with ISIS is an ideological contest.
Yes, there should be. We need an ideology that gives powerful meaning. ISIS, as well as other radicalized Muslims like the Boko Haram and Al Qaeda, know how to create and sell that ideology.
However, we have cultural difficulties to face. In our quest for comfort and safety, we ignore a basic human need: to have a sense of purpose so powerful that we are willing to risk our lives for it should it become necessary.
Consider many current child-rearing practices. God forbid that a child might be accidentally exposed to an allergen or spend an unsupervised hour outside. Movies like The Sandlot, where young boys sort out their lives on their own, have very little overlap with today's pre-teens.
In the excellent PBS TV series, Call the Midwife, we commonly see babies in 1950's London left to sleep untended outside. In Norway today experts believe babies should sleep outside in even the coldest weather. It is a common sight to see parents inside a restaurant enjoying a warm drink while their infants sleep peaceably outside, untended, in a pram.
In years past–and today in countries much poorer than ours–very young children would be and are expected to "mind" their younger siblings for hours on end. To "mind" means to keep them in mind and give them proper attention.
But not now. We won't even let them walk to school alone. A parent leaving children untended even momentarily may see arrest followed by a CPA investigation.
In the not-too-distant past, an adolescent male might be provided with a gun, a bed roll, a bit of food and money and a pack animal and sent out alone to make his fortune.
During our world wars, boys in their mid-teens would lie about their ages in order to enlist and go and fight for the nation.
But not now. We'll do anything to keep them safe.
OK, before I sound like a total curmudgeon and entirely too old to write this column, here's the real issue: We need risk, the danger of exploration and uncharted territories, and a sense of purpose to genuinely thrive as human beings.
We need to be able to face death and say, "Take me if you will, but I must be here at this place and at this time for the sake of my own soul and for the larger good."
We long for the cause that will so totally engage us that we, too, are willing to stand before the better-armed oppressors where only the few survivors later sing "Empty Chairs at Empty Tables" as in the musical version of Victor Hugo's classic, Les Miserables.
There's a grief that can't be spoken.
There's a pain goes on and on.
Empty chairs at empty tables
Now my friends are dead and gone.
Here they talked of revolution.
Here it was they lit the flame.
Here they sang about tomorrow
And tomorrow never came.
We want to see the world reborn. We want to participate in causes that matter passionately to us and to our loved ones. We want to know how far we can stretch before we reach our final limit or the "final frontier."
But we can't when safety take the number one priority in our lives; when comfort and security become our gods.
The religious base of ISIS says that adherents' sacrifices mean they will be building a better world, ruled by their understanding of God and following strict Islamic law and moral standards. War-making cohesive groups, especially when based on the idea that "this is God's supreme will," form relatively easily.
As a rule, people who are willing to form alliances across faith lines, i.e., out of their normal belief/doctrine boundaries, are also less concerned about doctrinal purity than they are about larger causes. BUT . . . religious groups without much concern for purity of thought and belief also tend not to band together well simply because they don't demand adherence to some unbreakable and Absolute Truth.
Without the siren call of "THIS IS THE WILL OF GOD/ALLAH/SUPREME BEING," it becomes more difficult to tap deep passions, the ones at their peak during the idealistic years of people in their late teens/early twenties, "I can change the world," formative years.
But it can be done. We need the Ghandi's of our age to rise again, the Martin Luther King's and Lech Wałęsa's of today to stand up and call us to higher purpose–one that brings life, not destroys it.
---
.All questions are welcome. You can email your questions to thoughtfulpastor@gmail.com, "like" her Facebook Page, use this form to send them or message her on Twitter. You can also send a question through conventional mail to the following address: Thoughtful Pastor, 314 E. Hickory St., Denton, TX, 76202.
[Note: a version of this column will appear in the Friday, February 5, 2106 print and online editions of The Denton Record Chronicle.]