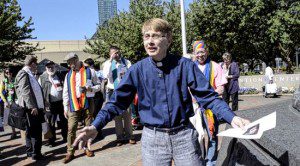 OK, Portland is gorgeous. Lovely flowering bushes sweetly frame the craftsman-style bungalow, an Airbnb rental where I'm staying with the United Methodist Reporter team. Delicious coolness kissed the morning air as a cloudless blue sky belied Portland's reputation as a place that rains all the time.
I would be happy just to sit outside and read a book, or wander into one of the many local shops, or take a miles-long walk through the charming neighborhood surrounding us.
But we piled into a car this morning and headed to the Oregon Convention Center to get ready to report on what promises to be a fascinating General Conference of The United Methodist Church. Why fascinating? Well, the shop that marks the entrance to the convention center happens to be a very large Cannabis shop. If all goes crazy, maybe the delegates/observers will head over there to chill out.
I definitely feel privileged to be a part of this team. Talent oozes from this group, all far more experienced than I as journalists, reporters, and experts with sound and visual media. Me, I'm just a lowly opinion writer, temporarily working as a reporter, knowing my real skills are as a "Are you kidding me?" seeing crazy stuff happen writer.
So, let's start with the crazy stuff: I watched a moving service of ordination this morning. Before the Conference started. Totally "illegal" in the eyes of the church because it was a gay ordination. Utterly moving. Chills down my back type of stuff. Read all about it here.
And we just learned that the person who is giving the official welcome to the Conference has been ordered to scrub from her welcome words that also include "people of all sexual orientation."
This is going to be a wild ride. The opening worship service starts soon, and I'm assigned to cover it, so am posting this now and will write more later.