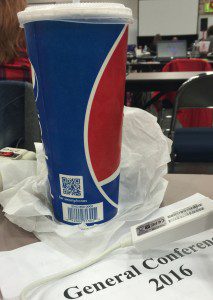 I didn't get around to eating today. We left the house early and our live-in cook for the team, Charles Harrison, who also functions as the chauffeur and two dozen other absolutely necessary things, needed to get four of us to a meeting. So, a cup of black tea and a couple of tiny clementines held me until about 2:30, when I suddenly thought, "I'm ravenously hungry."
Taking my gluten-free, lactose intolerant body for a stroll, I looked for a place in the conference center where I might find something safe to eat. Since it was way past lunchtime and various committees were meeting, most places had emptied out.
I wandered into a sandwich/grill and asked the nice man behind the counter if he could fix me a piece of grilled chicken making sure it didn't touch bread. He happily agreed.
I eyed the soft drink cups. I gave up drinking soft drinks years ago. But suddenly, the memory of a sugar/caffeine hit filled me with hope–perhaps I could at least momentarily fight off the afternoon fatigue.
Impulsively, I asked for the smallest cup. The sweet gentleman at the counter then told me, "If you'll just keep bringing that cup back here, you can have free refills for the rest of the week. As many as you want." Yep, I can stay well caffeined freely here.
That, of course, is the last thing I need to do, but I also appreciated the thoughtful gesture and thanked him.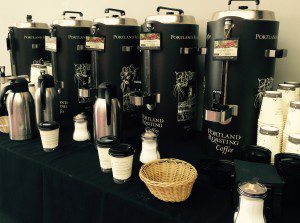 As I wandered back to the press room, I saw that snacks have been set out for the delegates. Happened yesterday as well. Apparently, different organizations are providing snacks–today from Drew Theological School. Yesterday, I snagged an apple and a mozzarella stick for my snack. Today, bags of highly processed chips and cookies kept me away from the tables.
And then there is the coffee. Right outside the press room, long tables full of coffee urns line the hall. I assume they populate other parts of the center as well. Rarely does a table have no one grabbing the magic pep-up elixir.
I sympathize. I'm not a coffee drinker, but clearly, the thought of getting to that fully caffeined state sucked me in. We sit so much here. The delegates have massive amounts of information to digest. All delegates sit on some sort of legislative committee. All have piles of legislation to sort through, affirm or discard, discuss and debate before the plenary sessions begin next week.
We have twelve legislative committees. Read about them and their tasks here.
Anyone can submit a piece of legislation. There are about 1000 under consideration here. Most will be tossed in the good ol' circular file, but others need serious consideration.
Some non-controversial legislation will simply move to the "consent calendar" where it will be voted on en mass at the beginning of the plenaries. But the rest . . . well, this is why we sit a lot. And why we need caffeine. A lot.