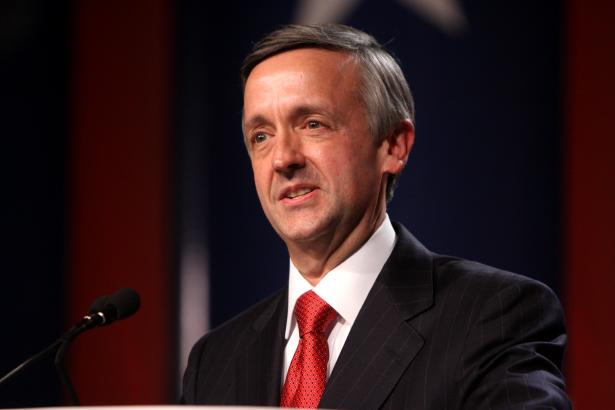 Correction: I included James McDonald as a member of this Advisory Council. I was wrong: he resigned in 2016. I apologize to him for including him in this list.
Business leaders know that Trump's support for neo-nazis and white supremacists has no moral foundation. They've jumped ship.
Unfortunately, the members of his religious advisory council apparently have no problems with outright racism.
Here's the list of those appointed to the Religious Advisory Council. These are the religious leaders who supported Trump's election and signed on to be Trump's advisors in spiritual matters:
· Michele Bachmann – Former Congresswoman
· A.R. Bernard – Senior Pastor and CEO, Christian Cultural Center
Note: A. R. Bernard resigned from the board as of August 18, 2017.
· Mark Burns – Pastor, Harvest Praise and Worship Center
· Tim Clinton – President, American Association of Christian Counselors
· Kenneth and Gloria Copeland – Founders, Kenneth Copeland Ministries
· James Dobson – Author, Psychologist, and Host, My Family Talk
· Jerry Falwell, Jr. – President, Liberty University
· Ronnie Floyd – Senior Pastor, Cross Church
· Jentezen Franklin – Senior Pastor, Free Chapel
· Jack Graham – Senior Pastor, Prestonwood Baptist Church
· Harry Jackson – Senior Pastor, Hope Christian Church
· Robert Jeffress – Senior Pastor, First Baptist Church of Dallas
· David Jeremiah – Senior Pastor, Shadow Mountain Community Church
· Richard Land – President, Southern Evangelical Seminary
· Johnnie Moore – Author, President of The KAIROS Company
· Robert Morris – Senior Pastor, Gateway Church
· Tom Mullins – Senior Pastor, Christ Fellowship­
· Ralph Reed – Founder, Faith and Freedom Coalition
· James Robison – Founder, Life OUTREACH International
· Tony Suarez – Executive Vice President, National Hispanic Christian Leadership Conference
· Jay Strack – President, Student Leadership University
· Paula White – Senior Pastor, New Destiny Christian Center
· Tom Winters – Attorney, Winters and King, Inc.
· Sealy Yates – Attorney, Yates, and Yates
Have a single one of them stepped up to say, "It is wrong, completely wrong, in any moral world, to equate neo-nazis and white supremacists with the actions of those who would prefer not to be killed by neo-nazis and white supremacists"?
As far as I know, other than Richard Land who has taken a lot of heat all spring and summer for criticizing Trump, every single other person on this list has remained a consistent supporter of Trump. Now they stay silent as their Supreme Leader declares many the neo-nazis and the white supremacists to be good people. [A complete transcript of his remarks can be found here.]
This group of religious leaders has decided that God has placed Trump as POTUS. I often wonder if they would have said that God placed Hillary Clinton as POTUS if she had won the Electoral College votes. But because God has put Trump there, they have no right to lift their hands against God's anointed one (1 Sam 24:6).
The possibility that they might have been wrong about their assurances of God's approval of Trump dare not enter their minds. Their entire belief systems could crumble. They'd lose their huge followings. They might have to get jobs instead of just taking money from the pockets of their faithful and gullible followers.
We have before us a frightening and tragic scenario. On the other hand, perhaps this whole moral and leadership tragedy will finally open people's eyes to the nature of those who make these kinds of absolute pronouncements in the name of God.
Or, of course, I could be wrong. Maybe God did place Trump there. Maybe this is the time to recognize that we as a country are indeed morally bankrupt and corrupt beyond all hope of redemption.
If that is the case, then we need to move toward national repentance. One problem with that scenario: our Supreme Leader, i.e., Donald J Trump, has never had a single moment of repentance in his entire life. He won't start now.
---
Photo credit: Gage Skidmore – CC BY-SA 2.0,