Brokenness and surrender. These are the themes of the morning. Very triggering for those who have suffered much at the hands of an autocratic church which has offered few open doors and limited welcome to many. 
---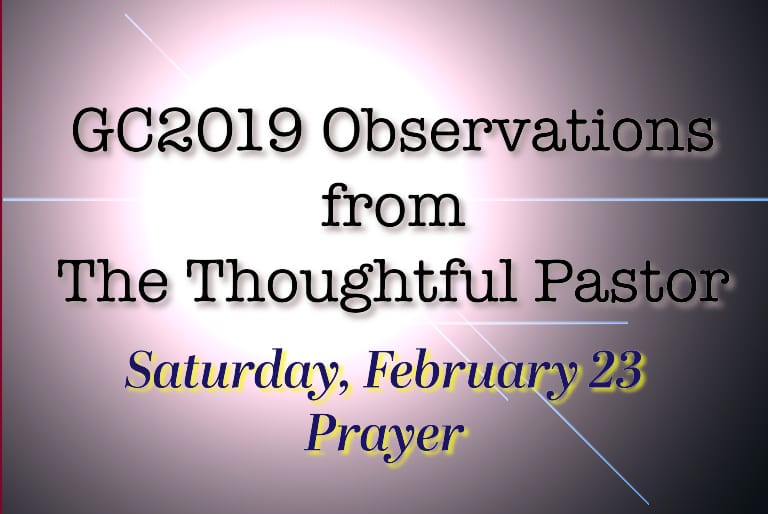 ---
Because of delays in getting press passes, the conference had already started by the time we of the press, still without proper passes, were ushered into what is a terrible observation point. We do have TV's up here, but there is an echo so the sound is repeated all over the Dome and difficult to hear clearly.
We are stuck here, in the press box, miles away from the floor, with difficult sight lines. Can't get any closer, can't get messages to anyone. Until the actual passes are printed and distributed, and we have no idea when they will be ready, we can go nowhere.
So, here we sit, doing what we can with an uncomfortable situation.
So far, there has been singing, a prayer where we were reminded that we had been diminished by our pride and bluster, scripture readings, more singing, more prayers. Songs so far are all of the repetitious 7/11 variety.
First Scripture reading: John 3 22-30. John the Baptist: Jesus must increase, and I must decrease.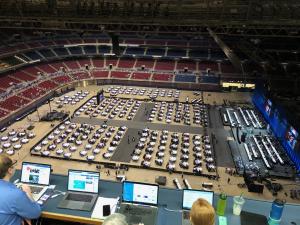 Back to prayer. A leader, and I didn't catch the name, says we will decide what we will do with the prayer, perhaps groups of two or three. Very difficult to hear. Right now, an extended period of silence in the room, but a significant amount of nattering up here in the nosebleed section as people are trying to make this bad set-up work.
I'm grateful we have this time, however. I suspect all of us need to get settled, go through some orientation as to what is where and how to access it, and what to do with the high level of emotion in the room.
I couldn't grab my camera fast enough, but there were people holding signs outside the Dome talking about the evils of sodomy, etc. Nothing like walking through a wall of hatred and inflammatory words. That is the last thing we need here. We need to find peace with one another.
Yesterday evening, I went to the cocktail hour hosted by my particular hotel. It became clear that many there were people here for the conference.
I asked one person for a few minutes of conversation. This person mentioned the concern that we would not and possibly could not be fully present with ourselves, with God, and with the others here. We'll be too busy formulating our answers and our counter-arguments to listen to the hearts of others.
OK, there was silence for about 10 minutes, and now the worship band leads in a song reminding us to pour out our lives, gracefully broken, holding nothing back from Jesus. I start wondering what that means: to hold nothing back from Jesus. Suddenly, after years in the church, the phrase doesn't make sense, although it certainly pulls on one's emotions to sing "I surrender" over and over and over again.
But surrender to what? If I were coming in from the outside the church, this would be the question I'd write. And for people who have been abused by the church and its teachings, such words trigger all sorts of horrors. We're tired of our lives being broken, and by the church often doing and/or supporting the breaking.
The music grows louder and louder now, reaching a crescendo, and then people clap.
A reading from Matthew 16: 24-27. Take up our crosses and follow Jesus. What will it profit to gain the world and to forfeit life? Good question. And again, what does it mean here to "gain the world?" Does it mean to "gain control of the UMC?"
"Breathe on us breath of God. Fill us with life anew."
And now another leader, talking about surrender. Brokenness and surrender. These are the themes of the morning. Again, massively triggering for those who have suffered much at the hands of an autocratic church which has offered few open doors and limited welcome to those who don't fit the standard definition of what it means to be Christian.
Too often, to surrender means giving way to yet more abuse. Folks, there is a lot of pain out there over this issue.
---
Photo credits: (c) Christy Thomas, Feb, 2019.
Note: all posts from GC2019 will be written quickly without much time to edit or catch spelling, and grammatical errors and other writing missteps. Feel free to catch them for me and let me know!