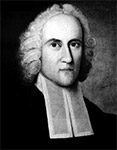 This is a sobering day by any stretch. If you are like me processing the horror in Newtown, CT, the fruit of freshly stunning evil–the same evil that lurks in all of us–here are two resources from Al Mohler that may be of help: blog and podcast.
In an unusual circumstance, friends have just let me know that you can get four books from the Essential Edwards Collection that I cowrote with Douglas Sweeney for a grand total of $4. With thanks to Tim Challies and Tommy Kidd (who reviewed one book here), here are the four books in Kindle version–again, each one is 99 cents for a very limited time.
Jonathan Edwards Lover of God
Jonathan Edwards on the Good Life
Jonathan Edwards on True Christianity
Jonathan Edwards on Heaven and Hell
And here is the fifth of the five books, perching lonely at a more standard price: Jonathan Edwards on Beauty.
It's rather odd as a coauthor to see your work–30,000 words per book–for sale for the grand total of one dollar. Perhaps a bunch of people who would not otherwise have investigated the magisterial theology of Jonathan Edwards will now be able to do so.
Edwards's understanding of God's sovereignty is desperately needed in days like ours, days so evil and so needful of Christ. Here is one sermon, by the way, that might be of interest to you in this time.