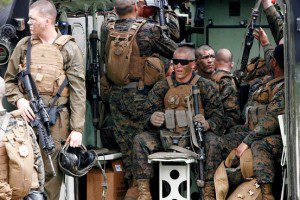 The decision to place American women in combat has ignited a firestorm of debate. Note this arresting description of combat conditions in the Wall Street Journal by Ryan Smith, an infantryman who served in Iraq:
When we did reach Baghdad, we were in shambles. We had not showered in well over a month and our chemical protective suits were covered in a mixture of filth and dried blood. We were told to strip and place our suits in pits to be burned immediately. My unit stood there in a walled-in compound in Baghdad, naked, sores dotted all over our bodies, feet peeling, watching our suits burn. Later, they lined us up naked and washed us off with pressure washers.
Smith concludes: "Combat effectiveness is based in large part on unit cohesion. The relationships among members of a unit can be irreparably harmed by forcing them to violate societal norms." This is not PC, but it is wise.
Baptist Press has just published two resources on this subject that I think can be of help to Christians trying to think through this issue. The first is an article featuring various voices in Baptist life on this topic, including Terri Stovall, dean of women's programs and associate professor of women's ministry at Southwestern Baptist Theological Seminary in Fort Worth, Texas. I appreciated Stovall's rich theological perspective on the matter:
[A]s much as today's culture tries to convince us that men and women are equal on all fronts, the truth of the matter is, men and women have been intentionally created with differences that complement each other. And it is through these complementary roles that the Gospel is communicated and God's glory is seen in a tangible way.

"To allow women to accompany men into combat ultimately distorts these roles and therefore distorts the picture of the Gospel. Man was created by God with the innate desire to protect. It is part of his DNA. It is not a matter of biological masculinity that makes men better for the task; rather it is a matter of honor and fully embracing his manhood to be the protector of his home, his family, and his country," Stovall said.
Secondly, the media outlet also published a Q&A I did with editor Michael Foust. Here's a bit:
BAPTIST PRESS: What are the biblical and theological reasons you oppose placing women in combat?

STRACHAN: My theology of war — and women in combat — is directly related to my theology of sex and gender. When it comes to making mankind in His image, God creates Adam first. He makes Eve from Adam. Her body is literally made from his, which signals both Adam's leadership and his duty to protect Eve. In other words, Adam gives his body so that Eve may exist. He is called for the rest of his life to give his body so that Eve may thrive. This is the starting place for distinctions between the sexes. God doesn't make Blob A (Adam) and Blob B (Eve). He doesn't make gender-neutral people. We don't believe in a divine creation of Teletubby-esque nature as Christians. The Bible shows as a matter of first principles that men and women are different, distinct and complementary. When Eve is brought to Adam with her distinctive shape and form, Adam rejoices. He cries out, "This at last is bone of my bones, flesh of my flesh" (Genesis 2:24). Adam delights in Eve, the one "taken from man."
Read the whole thing. I hope that these resources can be used of God to help the church speak a good and true word about the dignity of women.
(Image: Reuters)