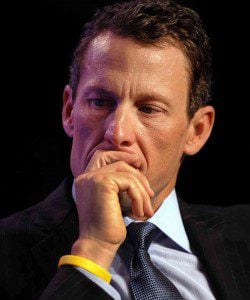 My buddy Jed Coppenger, starting a church plant in Nashville, is a bold evangelist. I love it. He once witnessed to Jim Carrey.
He's also witnessed to Lance Armstrong, the figure who's been justly and publicly shamed for his cheating at cycling. Here's the story from Baptist Press:
Armstrong, who was cycling in the annual 450-mile ride across Iowa known as RAGRAI, was in a pack of enthusiasts until a serendipitous crash left the brothers beside the cycling legend.

"On a turn in one of the pass-through towns, a cyclist lost control and wiped out most of the bunch," their father, Mark Coppenger, who also was a RAGRAI participant that year, recounted. "Caleb and Jed managed to weave through the wreckage and then find themselves riding right beside Armstrong for almost 10 miles."

The brothers decided to make the most of the opportunity to speak with Armstrong, who had just retired from professional cycling after winning seven straight Tour de France titles from 1999 to 2005.

After some brief small talk and thanking him for his work on behalf of cancer research, the brothers brought up their faith.

"We asked him if he was a Christian and he told us no," Jedidiah Coppenger, now a church planter in Nashville, recalled.

"We told him that we're not just against certain manifestations of death [such as cancer, which Armstrong had battled], but the whole thing. Since Jesus has overcome death in all its ugly wholeness, we're all about taking on death itself."

Jedidiah Coppenger, who also is an acquisitions editor for B&H Publishing with LifeWay Christian Resources, said Armstrong "graciously dismissed" their conversation and then moved on.
Read the whole thing. And pray for Lance Armstrong.
This is a deeply encouraging story. It reminds me that there's no gnostic secret to evangelism. You listen as well as you can, and you share the gospel as winsomely and boldly as you can. You don't need some super-powered training to be a witness for Christ. You simply need to speak up, in order that sinners–whether unknown or world-famous–can find true life in Christ.