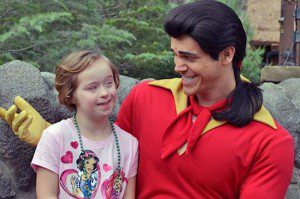 It's no secret that in upwardly mobile America, Down syndrome babies are among the least wanted children. Down syndrome babies will be termed things like "at-risk" by the medical community and are in serious danger of termination for several reasons.
It is true that children with this condition will have different challenges than some of their peers. But here's what's remarkable: these are the children who so consistently seem to have so much to give to the rest of us. This point was made by Beverly Beckham in a deeply moving essay in the Boston Globe recently. I encourage you to read every word, and see if you are not affected by this piece.
Here's how Beverly describes how Lucy, 9, treated her time at Disney World:
To an elderly woman in a wheelchair, she asked, "What happened, Grandma? Are you all right?' To a boy who was crying, she said, "It's OK." And to me as I screamed on the "Tower of Terror," she took my hand and said, "Don't be scared, Mimi."

"I wouldn't change a hair on her head," I heard a mother of a child with Down syndrome say when Lucy was 4 or 5. And I thought, back then, I would. I would take away her Down syndrome in an instant because it would make Lucy's life easier.

But what I've learned is this isn't true. It would make our lives easier — her parents' and family's and teachers'. But Lucy is fine with her life. It's not without problems, but whose life is?
Lucy is who she is because she has Down syndrome. Taking it away would change her. Her spirit, her love of people, her innate, unselfish goodness. They're on that extra chromosome. Not illusion, not sleight of hand, not things a camera can capture, but real.
Read the whole thing. Perhaps like me you'll be reminded that God uses things the world esteems as "foolish" to shame those who can't see his goodness. We are so prone to chase after flashy and unsatisfying things when simple and good things are right in front of us, reminding us in different ways of the kindness of God, and how all humanity, in whatever situation, bears his glorious image.
(Image: Beverly Beckham, Boston Globe)