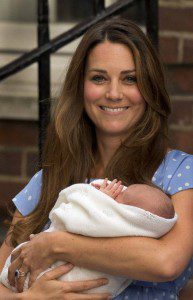 Here's the opening from an essay I just wrote for The Atlantic online about the "royal baby" born just a few days ago:
This week, as the U.K.'s Prince William and Kate Middleton were expecting their child at any moment, the impending birth received a galaxy's worth of media coverage. That the child would be heir to the throne was a motivating factor in all this attention, to be sure. I was interested not only for this reason but for a less-noticed one: Countless media reports bore news about the "royal baby."
This happy moment provides an opportunity to reflect on what exactly a being-in-the-womb is: a fetus, as the media commonly indicates, or a baby? In "When Is a Royal Baby a Fetus?," I ask and seek to answer this question. Here's a swatch of my answer:
Independence and location are not and cannot be the markers of personhood, in other words. If this is so, then our elderly loved ones are not people; our handicapped brothers and sisters are subhuman; our depressed and despairing friends, whom we must diligently and self-sacrificially care for, have ceased to exist. But all this is not so. To be human, in fact, is to be anything but independent, whether one thinks of the benefits of family members, friends, spouses–and perhaps, persons unseen yet powerfully perceived.
While we're on this subject, here's my friend Prisca LeCroy's excellent pro-life piece, "My Mother Regretted Her Abortion," from a few weeks back. Also, this is an instructive and inspiring essay from R. C. Sproul, Jr. on whether Christians should be a gospel witness at abortion clinics.
************
But are things really changing in America? I think so. It was great to see the media covering a birth, for starters. Lots of folks made fun of the whole thing, but at base, we were all celebrating birth, and life, and family. That was a beautiful thing.
Beyond this, here are signs that the culture is shifting on this issue:
-Polling from major firms (Rasmussen and Gallup)
-Abortion clinics closing in Texas, Virginia, New Jersey–this development is picking up steam
-An exciting campaign in West Virginia, "Illuminate," addressing the secretive and dangerous nature of many abortion clinics (led by Jeremy Dys, an emerging leader of the Christian cultural project)
If you've wondered whether we would see movement on this issue, the central moral issue of our day, here's your answer. Praise God for the thousands of folks, known and unknown, who have not stopped working for life over the last 40 years, but have graciously, winsomely, and boldly contended in public for the safety of babies in the womb. It surely would have been folly to give up this cause just because it's unpopular in certain circles. We would not have seen the gains we are seeing.
(Image: Matt Dunham/AP)