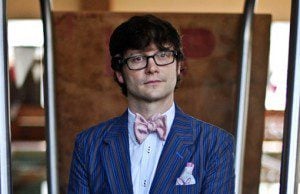 I just had the opportunity to write "A Hipster for King's College," a piece for the American Spectator on the recent appointment of Dr. Gregory Alan Thornbury to the presidency of The King's College in lower Manhattan (it's located on Wall Street–how's that for symbolism?). Thornbury, I suggest, is the nation's first "hipster president."
More significantly, I connect Thornbury to one of his mentors, the titanic evangelical theologian Carl F. H. Henry, and specifically to Henry's awe-inspiring vision for the evangelical academy. I wrote about this vision, which Henry shared with figures like Billy Graham and the hugely-important-but-overlooked Boston pastor Harold John Ockenga, in my dissertation at Trinity Evangelical Divinity School. (Said dissertation is being primed for the press in August. Final edits to come.)
Anyway, I had fun writing this little essay. I'm eager to see what the Lord will do at King's under my dear friend, a genuinely inspiring figure. Here's a little swatch of the piece:
It is possible that the school may not only survive but thrive in New York. Thornbury, after all, stands to benefit from the Manhattan evangelical network, loose as it is. The cultural prospects of evangelicalism and conservatism hang in the balance today, yet perhaps this time of tension will produce just the kind of ambition and restless energy that are needed for great projects like the one in question. To study the history of successful movements like the opposing poles of the Reformation or the Enlightenment, for example, is to see that great works rarely begin in periods of equipoise, but times of great uncertainty.
Hey, quick thought for you: many and sundry elements oppose the gospel in the American polis today, but do you not also feel a swell of encouragement right now? The Lord truly seems to be doing something in our midst.
These are discomfiting times, yes. But they are also, in the mysterious working of Almighty God, enlivening times. Our era is reminding me quite strikingly of the neo-evangelical heyday in the 1940s and 50s (read this outstanding book for more info if you're curious about this forgotten period). We're encountering major challenges, like Graham and Ockenga and Henry, but we're seeing great energy and godly ambition and winsome boldness crop up in the church.
I, for one, am excited.