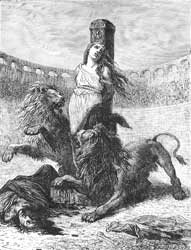 Have you ever heard of Blandina? You should have. She was a second-century slave girl. Ordinarily, her story would have been lost to history. But Blandina was no ordinary young woman. She was a Christian, and a Christian in a time of fierce persecution.
In my forthcoming book Risky Gospel: Abandon Fear and Build Something Awesome (Thomas Nelson, Nov. 26, 2013), I tell the incredible story of Blandina. Here's an excerpt from Risky Gospel published by Gospel-Centered Discipleship:
I want to tell you a story about a girl from ancient times.

She was a young woman possessing a quiet spirit. You might have found her type in any age—sweet, kind, and modest. If she were around today, she might be a fixture at youth group, a fan of Hillsong Music, and a devotee of a local coffee shop. Whatever her musical interests, you would know you could count on her, because behind her quiet and selfless demeanor was a strong faith.

Blandina was one tiny part of this unquenchable trend, anonymous and unnoticed. … Until, that is, the persecution in Gaul [France] reached fever pitch.
I'm so thankful for this example of gospel courage. Blandina is essentially unknown today, but her legacy stretches on. It's my hope that Risky Gospel can play a small part in recovering this legacy today. We will meet her soon.
Many women in the Catholic tradition have taken Blandina's name after holy vows. She is inspiring to me, and I think she will be to many others. Many centuries later, she looks us in the eye as she's attacked by beasts and tells us: don't play your life safe.
Risk it all for Jesus.