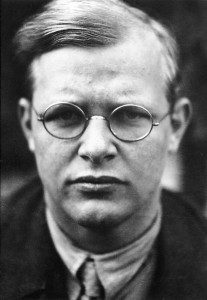 I offer three reasons in a short piece I just did for the SBTS Blog. Here's a snippet of one answer to the question, "Why should pastors preach about the public square?"
Behind the proto-free market of Geneva was the interest-denouncing homiletics of John Calvin. Behind the world-defying political advocacy of William Wilberforce was the world-defying, sin-targeting preaching of John Newton. Behind the abolitionist activity of the nineteenth-century "New Divinity" in New England was the theocentric worldview of Jonathan Edwards, which comprehended all of life as within the purchase and mission of God and his people. Behind the Hitler-defying witness of the Confessing Church of 1940s Germany was the courageous pulpit ministry of Dietrich Bonhoeffer (picture at left). In these and countless other examples, believers were propelled into the public square as evangelists and change agents. 
Read the whole thing.
If this topic interests you, here are two upcoming events that might be of interest:
1) The SBTS class held at the Together for the Gospel course in April 2014. I'll be teaching on "The Pastor in the Public Square," and we'll be covering this material. SBTS President Al Mohler will guest lecture.
2) The CBMW National Conference ($30 to register) held on Tuesday, April 8, 2014 in Louisville just prior to T4G. John Piper, David Platt, Kevin DeYoung, and a women's panel will address major public square matters of sexuality and gender and equip the church to speak well on these issues.
Join me for these exciting events.