My breakout session from the 2014 Together for the Gospel (T4G) conference is now online. It was entitled The Pastor as Public Theologian in an Increasingly Hostile Culture.
My session runs around an hour, and covers two major themes:
1) The pastorate is fundamentally a theological office that calls for the pastor to take dominion of all of life for the good of the church. 
2) In this role, the pastor is necessarily an ethical agent who helps his people meet the cultural challenges of the day with biblical-ethical wisdom fired by the gospel.
It was a rich privilege to give this talk. John Piper introduced the session, which was a thrill. Piper's pastoral ministry exemplifies the "pastor-theologian" or "public theologian" model (I consider the terms synonyms). Though he is now retired from his official pastoral duties at Bethlehem Baptist Church in Minneapolis, Minnesota, I and many others derive tremendous encouragement and instruction from his four-decades-long ministry. The book I coedited and that Piper and D. A. Carson coauthored was a first step in publicly promoting the pastor-theologian model.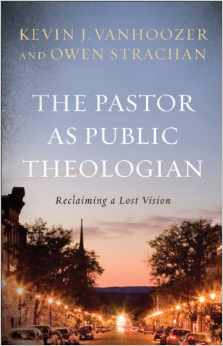 But there is much, much more to come. The material in my breakout is loosely based off of the book that I am presently writing with Kevin Vanhoozer on this subject. It is entitled 
The Pastor as Public Theologian: Reclaiming a Lost Vision
(Brazos Press, 2014). I am very excited about this project, which should debut in fall 2014. Pastors and seminarians who are intrigued by this pastoral model and who want more scriptural and theological enfleshment of it will find just this kind of material in 
The Pastor as Public Theologian
.
In writing this book, Kevin and I have remarked multiple times on how rare this kind of approach to the pastorate is. We're hoping that the text will inspire many ministers of the gospel to see their work as inherently theological, and, therefore, as calibrated for maximal spiritual and cultural impact.
May the lost vision be reclaimed, and the tribe of pastor-theologians increase.