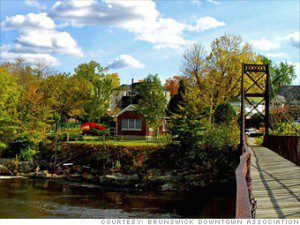 If you're the type of person who does not run from a ministry challenge but actively runs toward one, you're what one could call a "gospel Navy SEAL." Like C. T. Studd, you don't want to live within earshot of a chapel bell; you want to run a rescue mission on hell's doorstep (I quote Studd in this book of the same theme).
If you fit this bill, you might be interested in the following opportunity in Brunswick, Maine. My friend Rob Gregory is starting a new Christian study center that will minister to the students of Bowdoin College, my alma mater. If you are intellectually inclined, if you love working with college students, and if you are hungry for a challenge driven by gospel passion, consider applying for this position. It is a pretty remarkable post; your housing is provided and you'll receive a stipend.
Oh, and your day-to-day work? Investing in college students for the glory of God. Tough job!
Here's the position description Gregory gave me:
Joseph and Alice McKeen Christian Study Center Fellow Opportunity

Brunswick, Maine: As a result of recent changes in the way campus ministry will be conducted at Bowdoin College, the InterVarsity volunteers and other supporters of the Bowdoin College ministry are launching a study center which will affiliate with the CONSORTIUM OF CHRISTIAN STUDY CENTERS www.studycentersonline.org.  The Study Center is looking for its first Joseph and Alice McKeen Study Center Fellows to live in one of the units of this duplex building being newly renovated very near the Bowdoin College Campus.  The candidates for this position would be pursuing Seminary or other higher education (PhD candidates welcome).  The duties would be limited to providing an on-site presence, general oversight and light maintenance of the facilities, and some participation in the InterVarsity ministry at Bowdoin College.  The Fellows would live rent free, and further stipend and assistance toward the completion of seminary training or other similar educational objectives would be explored with qualified candidates.  A commitment of one-two years would be preferred.
If you're interested, 
visit this page and you'll find the contact info for Gregory
.
Brunswick, by the way, is a beautiful college town that is frequently ranked in those "Best Places to Live" surveys. It's near the ocean, has many great restaurants, and has several churches to plug into and serve. I do not exaggerate when I say that it is a lovely place to live. You're not far from many things: skiing, Portland, beach, hiking, Boston, and much more. Yes, Maine winters are cold, but Brunswick is a great place to call home.
The Christian Study Center movement is exciting. Even as numerous campuses make life difficult for meaningfully Christian organizations, CSCs are sprouting up and are serving as valuable places of ministry. This is especially true when they make strong links to area local churches. That's a powerful one-two combo. I love what Rob is doing in Brunswick and am eager to see an injustice turned into a fulcrum for gospel work at Bowdoin. IVCF has ministered faithfully at Bowdoin for decades, and I'm hoping that instead of the light dimming on campus, it will spread.
By the way, I just taped an interview about Bowdoin and its devastating bias policy on FOX News's "Huckabee" show which will air Saturday, July 5 at 8pm EST [Not July 4–with thanks to two sharp-eyed women for the catch!] I'm thankful for how the interview went and am praying that the Lord moves to restore Bowdoin Christian Fellowship to its official student group status.