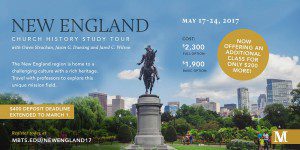 No. God is not finished with my home region, New England. He's working there in inspiring ways today.
I love studying the past of New England. My favorite theologian is Jonathan Edwards, and Edwards gave his life-blood to reach the people of this beautiful place. Edwards faithfully preached the Word for several decades, and his model of ministry is unsurpassed. But there can be a danger with studying a figure like Edwards. One can feel like light once broke out, but now cannot do so. But this is not the case.
In three months, I am leading a New England Study Trip with Midwestern Seminary. With Jason Duesing and Jared Wilson, I'll be teaching on the New England past. But we'll be doing more than this: we'll be celebrating the present and future of this region. We'll meet numerous ministry workers who are in the trenches serving the Lord in one of the nation's hardest-to-reach areas. The details for the trip are below. One does not need to be a MBTS student, or even a seminary student, to come with us on the trip.
There is much under foot in my native land. I think of impressive church-planting works like
NETS
, and terrific churches like
Grace Harbor
in Providence, and important books like 
Reviving New England
by Nate Pickowicz, which just came out. God is doing something in New England, just as he has in days past.
Soon, we'll see this work for our own eyes.
************
Dates: May 17-24, 2017
Cost:
Basic – $1,900
Full – $2,300
**Pay only $200 more and receive credit for an additional class.
Deposit: $400 by Wednesday, March 1, 2017
Please email aburgard@mbts.edu immediately to reserve your spot.
Classes:
Leadership Practicum
Church History II (grad and undergrad)
Baptist History
Church History Study Tour (elective)