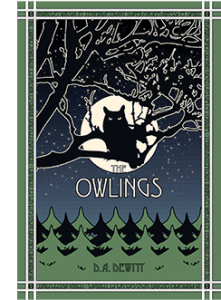 What's up with Christian fiction? We had a fantastic burst of production in the mid-twentieth century. Some good works have come out since then. But for many years, we waited for another Lewis or Tolkien to no avail.
There are signs of stirring in the evangelical movement. We're young, restless, and writing. N. D. Wilson has deservedly gotten a great deal of attention in recent times. He shows serious promise as a man of letters. Karen Swallow Prior is publishing numerous exquisitely-crafted essays and books. Here's a great essay on my native Maine, and this is her brand-new book on Hannah More, which I am eager to dig into. Thomas Lake is, by my lights, the best young sportswriter in America. I read a good bit of long-form sportswriting (and always have), and I can't think of who would come in second, honestly.
Be of good cheer, evangelical-arts-aficionados. Good things are afoot.
Here's a name you need to know: Dan DeWitt. Dan is the Dean of Boyce College, the undergraduate arm of The Southern Baptist Theological Seminary. Dan is not only well-versed in Lewis, Chesterton, and Christian worldview studies, he is a gifted writer of fiction. Dan's first novella, The Owlings, just released with TheoLatte Press. I strongly commend it to you as a fun and insightful story dealing with major apologetic challenges.
Here's a brief selection to whet your appetite:
Clive spread his wings, which apparently he had not considered all of the implications of this move as it nearly knocked Dorothy and Gilbert off of the fence. They politely scooted over to give him more room. 

"Eh, hem." Clive cleared his throat. "Everything you can see is not all there is, my lad," he told Josiah. "There is much more to your world than anything you can see with your eyes."
Buy the book and read a sample chapter at Dan's website. (The illustrations, by the way, are exceptional.)
I am thankful to serve under Dan's leadership at Boyce. He is a humble but gifted man, adept at both high-level intellectual engagement and, as this book makes quite clear, translating complex Christian themes to diverse audiences. Under his guidance, Boyce has skyrocketed in enrollment; we're now pushing 700 full-time students, and we're in beautiful new digs. In a season of major upheaval in the academic sphere, with many schools struggling for funds, God has been very kind to us. We don't deserve this kindness, but we're thrilled to benefit from it.
But let's get something straight: you shouldn't just read Dan's writings–you or your family members should come and study with him, me, and others. Maybe under his tutelage, we'll see a serious surge in excellent Christian writing. Few things would delight me more. Few things would serve the kingdom's broad purposes better than a resurgence of excellent evangelical writing tackling major apologetic issues.
Let's get this done.