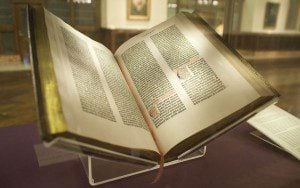 Every academic community, I suppose, is a colony of writers.
That's holding true at Midwestern Seminary, where I teach systematic theology. President Jason Allen recently released a very helpful book on the call to ministry. Provost Jason Duesing has just edited a terrific new book on religious liberty and released his scholarly work on early Baptist Henry Jessey, an underappreciated but important figure. Jared Wilson is established as evangelicalism's go-to voice on the theology of pastoral ministry, and recently published a rich apologetics book. Christian George is tackling the biggest publishing project on Charles Spurgeon in many decades, The Lost Sermons of Charles Spurgeon, for B&H. This twelve-volume work is truly a monumental undertaking, and Christian is just the man for it. Alan Branch has done thoroughgoing work on the nature of homosexuality; Michael McMullen is editing the journals of William Wilberforce for publication.
This is a sampling of the work being done in Kansas City. As you can see, this is a time of serious intellectual ferment. The common theme among these scholarly endeavors, of course, is that they are aimed at fellow scholars but especially at Christ's church, to strengthen and bless it.
For my part, I have two projects that I'm excited to share with readers. I'll be working on these over coming months, with releases tentatively planned for 2018 and 2019.
1. Reenchanting Humanity: A Theological Anthropology (B&H Academic). In this scholarly theological work written for both the seminary classroom and the church, I'll build out a full-fledged vision of humanity. I believe that our 21st-century context has drained the human person of vitality and uniqueness, and my volume will cover such topics as sex, gender, work, the image of God, the body, race, play, contingency, and more in providing a biblical picture of who we are and who we are to be in Christ. The doctrine of anthropology is under-resourced in terms of writing, but desperately-needed in terms of our cultural moment.
This book will be a work of systematic theology with a special focus on the biblical witness. It will engage with modern philosophical and cultural trends. I'll likely use it as a textbook in my systematic theology classes, but will write it in such a way that churches can easily use it as well.
2. Always in God's Hands: Day by Day with Jonathan Edwards (Tyndale House). In this 365-day devotional, I'll offer a brief selection from the Edwards corpus while explaining and applying it for normal Christian living of the sort you and I do every day of our lives. I'm eager to write another book with Edwards, my favorite theologian, and the figure in church history I judge to have made the most estimable theological-ministerial contribution (Yes, devotees of Augustine, Calvin, Luther, and Spurgeon might quibble here!). In heaven, I look forward to thanking Edwards for writing six books with me. Depending on what kind of knowledge of earthly things we have there, he might be a bit surprised by our coauthorship.
Always in God's Hands will show readers that Edwards has a great deal of rich spiritual material to offer their daily lives. Yes, he was a convictional preacher of uncompromising standard. But the history books have oversold his sternness, and undersold his warmth, his pastoral care, and his inspiring material. I'm thankful to get to play a very small part in helping ordinary Christians like me benefit from Edwards once more.
*******************
Image: The Gutenberg Bible by Kevin Eng, used with permission from Wikimedia Commons