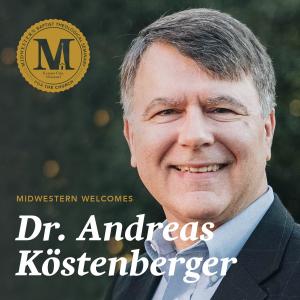 In the kindness of God, Midwestern Baptist Theological Seminary has just made the most significant faculty hire in our six-decade history. As announced today, Dr. Andreas Köstenberger has been elected by the trustees of the seminary to the faculty. He will teach New Testament and biblical studies at Midwestern and will lead a center on campus. Much of Dr. Köstenberger's ministry at the school will come at the doctoral level; students interested in doing a PhD in New Testament will now be able to study at Midwestern with one of the top three New Testament scholars in the world, in my own humble estimation. (In another detail, Midwestern College has been renamed: Spurgeon College. Wow–what a name.)
Here's what Midwestern President Jason Allen said about this hire: "We could not be more pleased to announce the election of Andreas Köstenberger to the faculty of Midwestern Seminary," said President Jason Allen. "Dr. Köstenberger is among the most accomplished New Testament scholars in the greater evangelical world today. In fact, within our denomination and conservative Evangelicalism-in-general, Dr. Köstenberger is part of a 'Big Three,' which includes D.A. Carson and Tom Schreiner."
At a personal level, I am grateful to the Lord–and in human terms, to Dr. Allen–for bringing Dr. Köstenberger to Kansas City. I have learned a great deal from him over the years; he has written numerous books and commentaries (over thirty total) that have strengthened my faith and doctrine. His landmark study of 1 Timothy 2, coauthored with Tom Schreiner, his rich biblical theology of manhood and womanhood with his wife, and his commentary on John have helped me greatly. Dr. Köstenberger is an elite scholar, but he is the kind of scholar that most animates and inspires me, because while his research ranks as top-rate in academic terms, it is also written in such a way to bless the shepherds of God's flock. He produces excellent work, in other words, but he does so without straining for praise from the secular academy. Our seminary motto, even our anthem, is "For the Church." Dr. Köstenberger fits the bill elegantly in this respect. He is an expert in his field, but he does not duck. Instead, he seeks to answer the toughest questions, and to provide wisdom and biblical enlightenment to God's people on matters that our secular culture has confused.
Dr. Köstenberger is a churchman, a godly husband, and a caring father to his four children. I count it a privilege to serve with him as of this very day at Midwestern Seminary in Kansas City. Without bombast, this is a historic day for Midwestern. This school has known its ups and downs over the years, struggling even to stay afloat in some seasons, and has not always had a reputation for robust doctrinal integrity (Mark Coppenger's tenure being one exception to this rule). In the strange providence of our sovereign, the Lord has determined that we would now know health, and vibrancy, and growth. We do not assume it will always be so, but the Lord continues to bless our humble community, and our students stand to benefit immeasurably from the opportunity to study with a scholar of this renown.
It is no easy task to grow a college and seminary in this day and age. Schools are shuttering by the bushel in our time. Praise God that the reverse is happening in Kansas City under the leadership of President Allen and Provost Jason Duesing. Just today, the seminary unveiled a great new website; we've produced a new magazine covering five years of divine faithfulness to us; our $16 million student center is nearing completion, and looks incredible; For the Church, led by Jared Wilson and driven by Charles Smith, has become a strong source of spiritual edification and ministerial identity-formation (and is hosting upcoming events in Little Rock and Springfield, Missouri); and we're doing what we are most called to do: we're investing in the next generation of ministry workers by drawing faithful scholars and theologians to train students in sound doctrine. Our faculty is publishing, and we hope to only increase the pace in this area in days ahead (see this recent book by Matthew Barrett, this by Christian George, and here's one coming out in a few weeks' time on Jonathan Edwards).
That's what all of this comes back to: sound doctrine as taught and championed by sound men of God. That's the core of a Christian seminary. That's what builds, sustains, and protects the flock of God, the local church. Anchored in Christ crucified and resurrected, sound doctrine is nothing less than the hope of the world. Today, with the hiring of Andreas Köstenberger, we can offer our students still more sound doctrine, and a still richer feast of God's holy food.
(For my own little part, I'm excited to be back with my students in the classroom next fall. In 2018-19, at the MDiv level, I'll be teaching Theology 1 (fall '18), Hermeneutics (January '19), and Theology 2 in the spring.)
Today is a joyful day. But we take none of this for granted, and we ascribe praise to no one but God alone. He must give the harvest, or there is no harvest at all. In this harvest time, I would encourage you to think about coming to Kansas City to study with us at the collegiate, postgraduate, or doctoral level. Do so not because of hype or flash, but because of our strong and still-growing love for the church, for the Bible, for the God who saves and gathers and perseveres people just like us for his own glory and greatness.
In a secularizing age, many schools are softening their commitment to the inerrant Word of God. They are retreating. For our part, as evidenced by this hire, we are not softening or stepping back. We are redoubling our efforts. We are, by God's grace, advancing, come what may.
***********
(Image used with permission of Midwestern Seminary)