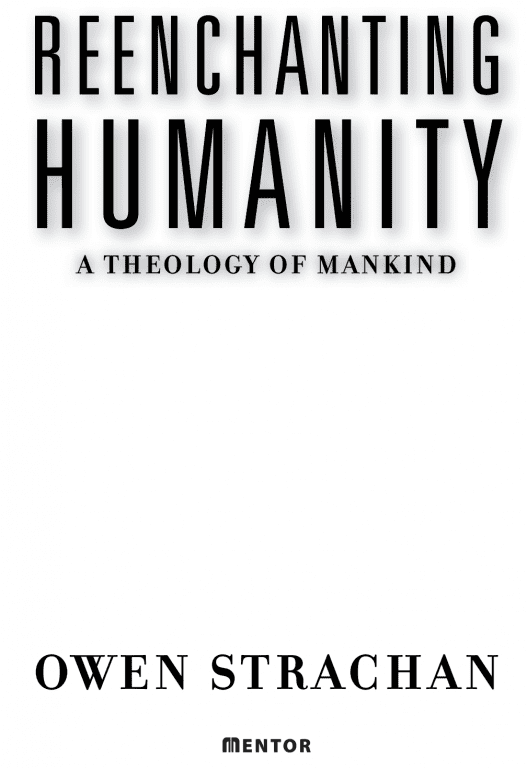 A number of people have asked me about my book Reenchanting Humanity: A Theology of Mankind. Today, I have four quick updates about this volume, a work of systematic theology that is aimed at seminaries, university settings, churches, and any context where people want to understand biblical anthropology. Thanks to all who have expressed interest in this little project.
First, the book is now being published by Christian Focus. It will come out with their Mentor academic line specifically. Some will know that Reenchanting Humanity was originally with B&H Academic. I had a great experience with B&H for several years; the team I worked with is top-notch. This summer, after some conversation and development, I opted to partner with Christian Focus to publish Reenchanting Humanity. I have published The Grand Design previously with this house, and have tremendous respect for Willie Mackenzie and his team. (Note the refreshed design to the left–here's the full product page for the book with more details.)
Second, the book is coming out in November 2019. However, I have been told that it will land in the US market a good deal sooner than this (late September, I believe). Originally slated for August 2019, the formal book launch event is now planned for October 2, 2019 at Midwestern Seminary in Kansas City. More details will follow about this event.
Please note: any readers who pre-ordered the book should know that pre-orders for the previous listing do not apply. You need to pre-order at this brand-new Amazon location. Previous pre-orders will not be filled, and thus your humanity will remain insufficiently enchanted. (In all seriousness, I sincerely apologize for the delay in launch and the hassle with ordering Reenchanting Humanity a second time.)
Third, the book is now releasing in hardcover.
To say that I'm excited about this change would be an understatement.
Reenchanting Humanity
will have a sturdiness that I trust represents the soundness of the content. This volume is not an ethics book or a cultural engagement volume. It is fundamentally a work of theology. It is systematic theology with a fair dose of biblical-theological tracing. It covers all the hot-button issues of today, issues like race, gender, sexuality, technology, transhumanism, posthumanism, justice, death, work, and much more. My intent is to bolster Christians and churches who find themselves confronting the central question of the age–"What is humanity?"–and lend them theological aid in their proclamation, shepherding, equipping, training, teaching, evangelism, discipleship, and apologetics. My ultimate aim is to show the beauty and glory of Christological anthropology, the doctrine every human heart is looking for but no one can find outside of the person and work of Christ.
Fourth, the book is poised for an international reach. I saw this with The Grand Design, a project I wrote with Gavin Peacock (watch this space for more regarding Gavin and me, by the way). Simply put, this short book went all over the world thanks to the expertise and reach of Christian Focus. Strengthening Christ's global church is my greatest goal and desire; it's not royalties, it's not fame, it's not prestige. Reenchanting Humanity is a scholarly work in every sense; it features many footnotes, it engages top thinkers and voices, but it is written for the church. Very soon, the text will start finding its way to readers and churches and seminaries and colleges, and I can't wait for that. As noted, I have heard that the book will start shipping in late September, even prior to the formal November release.
So there you have it: an update on my doctrine of humanity, Reenchanting Humanity. I'm very thankful for the partnership with numerous friends on this project. How kind of the Lord to let a little dust-mote like me publish even a single word, a single syllable, about Him and his creation.