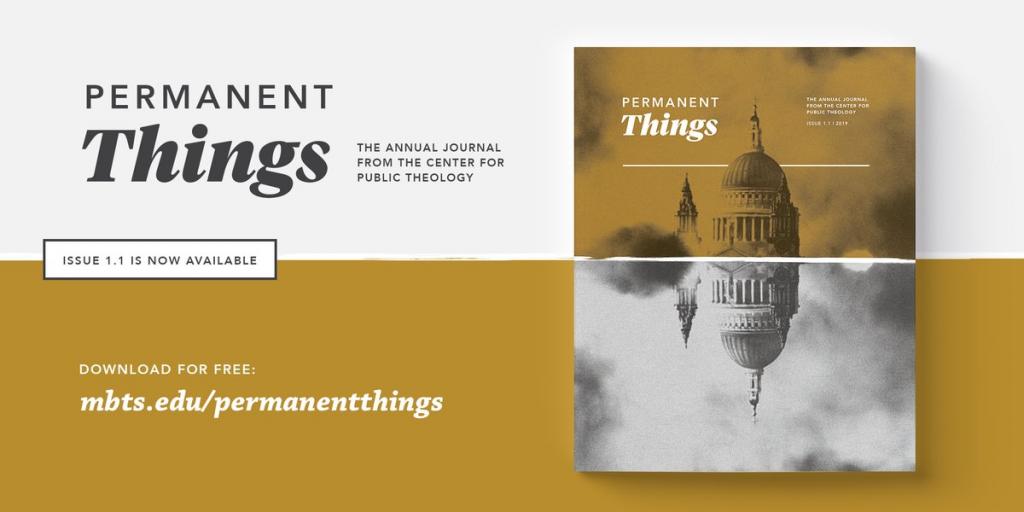 Today is an exciting day. In the vein of Books & Culture in the evangelical world and First Things in the Catholic world comes a new journal: Permanent Things. Read the official Midwestern Seminary press release here. I am thrilled to announce the digital release today, June 5, 2019, with the print release to come in coming weeks (I'll have info in days ahead on how to get it in print form).  Download the first issue here.
Permanent Things is a Southern Baptist journal on Christ and culture, a theological loci codified in the twentieth century by a mainline Protestant theologian, the title of which springs from the writings of a Gothic Catholic who first sighted the phrase "permanent things" in the cultural criticism of an Anglican poet born in the state of Missouri. It sounds fantastic, but it is all true. In Permanent Things, we consider the way in which evangelical faith—derived in historic terms from the discoveries of the Reformers both magisterial and, to a not insubstantial degree, radical—collides with a fallen world and an increasingly secular order. Said differently, we engage H. Richard Niebuhr's discipline with the confessional conviction of cross-loving Baptists under the banner of T. S. Eliot's (and Russell Kirk's, by popularization) famous descriptor of the most important institutions, ideas, and realities of our world: human nature, freedom, virtue, civil and cultural order, morality. From an evangelical standpoint, we may explicitly include a biblical conception of the family, church, and public square in this list.
Permanent Things comes in tumultuous times, when everything seems to be politics and politics seems to be everything. Previous political occurrences have upended the previous order and, in a real sense, changed the situation of the evangelical movement. The task of Permanent Things is not to enter headfirst into the partisan arena; that is the honorable duty and call of some, but our charge is to assist the church (pastors and elders most directly) in thinking in a distinctively Christian (and even Baptist) way in a climate in which such assistance is in short supply.
The contributors of this first issue are a gifted bunch. Most are Baptist or credobaptist; all are warmly evangelical, and all have staked their life and work on the Word of God. Their articles range across matters of culture, theology, and the public square; some are testimonial, some are pedagogical, and some are analytical. The collective effort here is a bold one; we dare to try to think well in this little journal, and to do so not with arrogance borne of confidence in ourselves, but with hope borne of confidence in the mind and will of God. Evangelicals, it must be said, have not always excelled in this area, the life of the mind, with particular respect to matters of Christ and culture. In some cases, we have lagged behind our Catholic neighbors. It is my hope that the rising generation of evangelicals will not fail to hear the call to love God with their mind, and to seek to be salt and light in this evil order, knowing that faithfulness to this sacred mission depends not on baptizing non-Christian thought, but on being uniquely and unmistakably evangelical, born-again, Spirit-indwelt, and Great Commission-minded.
It has been a joy to work on this project through the auspices of the Center for Public Theology at Midwestern Baptist Theological Seminary. I thank Dr. Jason Allen for his vision for the center and Dr. Jason Duesing for the suggestion to start this journal and much support along the way. My thanks as well to Dave Wright, who has set a remarkable standard of excellence for our Midwestern communicative ventures; Jason Muir, who provided an elegant aesthetic for the journal that lines up perfectly with the desired look and feel of Permanent Things; Mike Brooks, my sharp-eyed assistant in the assembling of this issue; and Kristen Lanier and the excellence-pursuing team of the Communications department, a team that does so much for our campus under the terrific leadership of Charles Smith.
And now: to the permanent things—their defense and promotion, coram deo. Download the first issue here.
***************
Permanent Things May 2019 | Issue 1.1
Table of Contents
Editor's Note: The First Things of Permanent Things by Owen Strachan
Leonardo DaVinci, James Cameron, and Trans-Species "Love": The Brave New Vision of Posthumanism by Michael Plato
'What You're About to Witness is Not Magic': Christopher Nolan's Cinema of Immanent Wonder by Brett McCracken
"The Spirit does not minister anything else but Christ": Kevin Vanhoozer on Pastor-Theologians, Doctrine, and Cultural Literacy
On Having a Large Family in an Age of Childlessness by David Talcott
God's Call to Excellence by Andreas J. Köstenberger
Truth with Grace: Re-Centering God and De-Centering Self Within the Public Square by Bruce Ashford
Going Dark: The Rise and Significance of Jordan Peterson and the "Intellectual Dark Web" by Esther O'Reilly
"The gospel addresses all of life": On Race and Identity with H. B. Charles
Your Prosperity is Too Small: The False Promises of Health-and-Wealth Religion by Costi W. Hinn
Counting the Cost and Counting the Joy: A Call to Christian Women by Abigail Dodds
Principally Conservative, Convictionally Christian: On Transcendent Truths and Divine Realities by Don Sweeting
 "It's simply a Christian witness": Thomas Kidd on the Value of Evangelical Scholarship
The Debonair and Delightful William F. Buckley, Jr.: What Evangelical Public Intellectuals Might Learn from a Catholic Luminary by Andrew Walker
Gentlemen Shepherds and Invisible Sherpas: The Task of Theological Educators by Jason G. Duesing
The Theology of the Bible and the Mission of the Church by Jonathan Leeman
In Ashes, Build: Notes on a Theory of Culture by Owen Strachan