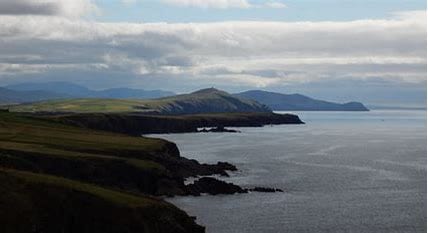 As we have discussed here before, The Celtic peoples saw living out their faith in Jesus as a journey. The journey was one with Christ, and not toward Christ. The concept of pilgrimage doesn't necessarily fit the mold for this type of journey. In a pilgrimage, the pilgrim usually returns back home. In the Celtic concept of journey, the person never returns to what was. Where the journey leads is now home. The Celtic journey with Christ is a journey beyond home and what is comfortable. It is a journey with discomfort and even sometimes pain. But it is a journey with a savior who was horrifically beaten, so Christ understands hurt.
This particular hymn was sung by those setting out on a journey with the love of Christ. It was very likely in these journeys, for many different reasons the traveler would never again return home.
Prayer For Travelling
Life be in my speech,
Sense in what I say.
The bloom of cherries on my lips,
'Till I come back again.
The love of Christ Jesus gave,
Be filling every heart for me.
The Love of Christ Jesus gave,
Filling me for every one.
Traversing quarries, traversing forests,
Traversing valley's long and wild.
The fair white Mary still uphold me,
The shepherd Jesus be my shield.
Rekindling Hope in a World Full of Despair
What I find fascinating about this prayer is the hope that is found within its words. Even though the one speaking it knew coming home was unlikely, they still held out hope. In the world we live in today, its hard to see hope. Between the visceral spewed on social media and a church no longer interested in the core tenants of our faith, its easy to lose hope.
This is a time we can look back and reflect on the goodness of God to us. It is a time we should be hopeful about the world to come. I'm not speaking of the heavenliness at death, I'm speaking of now. We need to put more hope in the world we live in instead of reserving it for after death. If we wait until death to have hope, it makes this world hopeless. Like the one praying this prayer, even though we may never return to Eden on Earth, we must have the hope that happiness and a relationship with God and people is possible here. We need to have hope in this life.
Seeking Jesus in every Encounter
The reader also desires to Jesus in those they encounter. It is the speakers desire that the love of Christ could be seen in the world around them. We, as reformed western Christians seem to fascinated with sin and destruction. We are so fascinated that we sometimes don't even look for Jesus hiding in plain sight in our neighbor. Jesus is to be found in every interaction. Maybe instead of focusing on the sin and depravity first, we could look for the original blessings and the image bearer that we encounter in every human being. Just like hope, the Christian must seek out the blessing before the curse.
A God who is Truly Infinite
This prayer seems to lend from the Lorica of St Patrick in many ways, as it seeks Christ near as well as within. It almost prompts the speaker to do what Celtic Spirituality has lead us to. This is to seek out and find Christ in other places, people and things. Celtic Spiritualism is rooted in the omnipresence of Jesus. Jesus is not to be spoken to alone, but to be sought out. Finding Jesus in nature, in people and the tasks we do as where we find hope. We find this hope in a God who by definition, can never be separated from us. If we truly believed that about our journey, imagine the bold hope we would have to share with the world.
To learn more about the author, click here