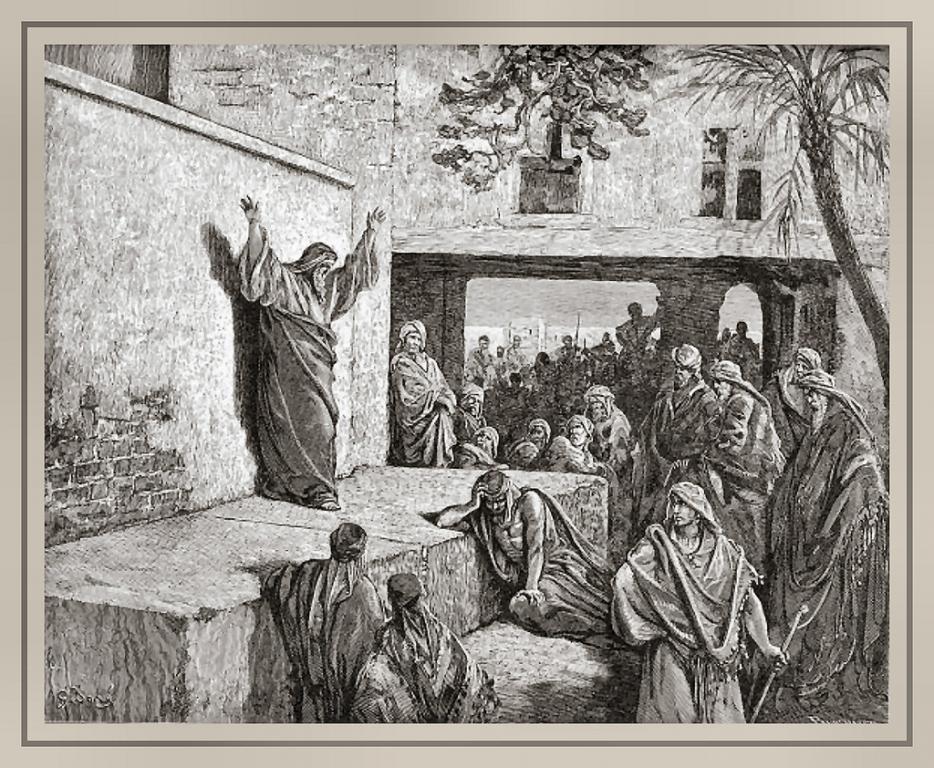 As I was in prayer and study this morning, my studies brought me to the book of Micah. Now, as a guy with a Biblical Studies Doctorate with an Old Testament emphasis, this wasn't my first read. But as I was reading the page, a particular portion struck a hard nerve with me. It struck a nerve because I realized that I am mourning the church. and Micah's Lament seemed to say what I was thinking. (Micah 1:8-9).
Because of this I will lament and wail; I will walk barefoot and naked. I will howl like the jackals and mourn like ostriches. For her wound is incurable and has reached even Judah; it has approached my people's city gate, as far as Jerusalem.
Lament In Context
Now for context, Micah was in mourning for Israel and her coming judgement. That judgement had been pronounced because of the rebellion of Israel against the covenant Israel made with God. But even though Israel was in the wrong, Micah still mourned the reality that the kingdom was passing away. The wounds of the rebellion were incurable and Micah knew Israel was not long for this earth. All he could do was stand by and be witness to the end of where he called home. Everything he knew would soon come crashing down around him. Micah was terrified. Micah was lamenting the loss of not only a nation but of a covenant with God.
Micah's Lament is the Beginning of a New Promise
Historically, the loss of everything people knew, due to progress war or famine has been quite traumatic to those caught in the moment. In an instant, people begin to realize that everything they knew is about to change and they can do nothing but lament and grieve. In this place of sorrow and desperation we find people at the end of their rope. People at the end of their rope typically cannot see past the pain of grief in the moment. Those in the throws of grief are in need of a promise.
That promise comes to Micah in Chapter 5, when God declares the people of God will go from defeated ruler to conquering king. But the new promise does not come without the pain of letting go and mourning what was. Mourning what we were comfortable with, even when it has become so tainted by outside influence it doesn't resemble itself, is still very real. Loss of what we knew, even when it is broken, is terrifying. The new promise is just that; new and unknown. Having the courage to move into something new, even if it is better can be traumatic unto itself.
My Lament
I have a heart for the Body of Christ. By proxy, the religious structures of those persons have room in my heart as well. I have tried my entire adult ordained life to patch up and fix these broken religious systems within Christianity. Mainly this is because I have an intense fear of losing the spaces in which I was comfortable in. And although the western religious structure of Christianity has become depraved and self involved, with wounds of indifference and hate, that are incurable I mourn its passing.
I am mourning the passing of the church structures that I had grown up in. The structures that I began my relationship with Jesus Christ. Its these same structures that educated me and sent me on the path with Jesus. Yet these structures are showing their age. Many of these structures are oppressive, even toward me as I have grown in my faith with Jesus. Even so, its what I know, and so I mourn.
A Church in Rebellion Against its own Teachings
Like Micah 1's Israel, the modern church has become rebellious to its own teachings. Its high places have become places of decay, rotting away with hate, indifference and narcissism. They are in need of trampling. The reality is the church daily seems to move away from the teachings of Christ, interested more in popularity of social media and the power of the state. And in the same way as Samaria, the modern church is going to have its high places trampled by God and made a heap of ruin. In reality this is necessary. This system in many ways cannot be reformed, it must be reimagined. But to reimagine a new promise, the old must be destroyed.
And Yet, I Mourn
If I'm being honest, I am mourning the passing of the modern church. It breaks my heart to see the wounds of oppression, abuse, rage and nationalism consume the institutions that helped bring me to where I am today. But I must also be honest in the current iteration of the church's prognosis. It is terminal. The current church is slowly dying and I can do nothing but watch.
Or can I do something? Maybe I could have the courage to work through my grief and be honest about this trauma. Even more, maybe I can have the courage to help the church die with dignity and be part of the new promise. Maybe I could even look for the strength to become an agent of this change. The old will certainly pass away, but can I be a midwife of the new? I can, and I will. But it must be acknowledged that I am still mourning the old. Maybe part of mourning the church is to be part of the new promise?
It is Time for the New
It is time to do as St. Brendan did when he said "I chose to live beyond regret, and let you recreate my life". We cannot go back to the Pre-Covid business as usual. Returning to a church that ignored the community around it for the sake of looking like a church is unacceptable. It is time for the new. The time has come to step out of what was comfortable. What was comfortable to me was doing severe and lasting damage to others.
The time has come to live beyond our fear of losing what we had and be part of the process of ushering in the new promise. A new church and religious structure free of preconceived oppressions and indifference. God is destroying the old and comfortable for the new. Its okay to mourn, but we must look to the new. In the new, all are welcome to Christs table. Its in the new where there will truly be no Jew or Greek but all one. I dry my tears and put on my work gloves. Its time for the new. Its time to end mourning for the church and build the new!
to learn more about the author click here.
to learn more about Celtic spirituality click here.