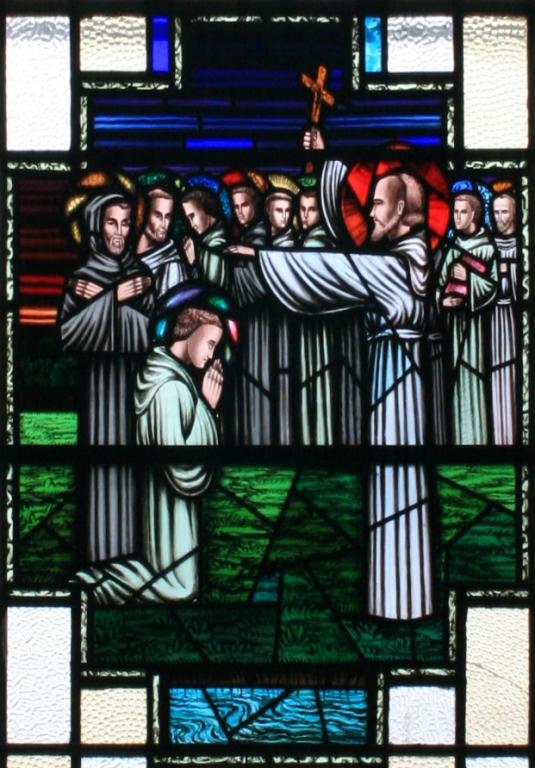 As we continue to journey through the 12 Apostles of Ireland, we find here in these three bravery. We find bravery in the face of the unknown, bravery in the face of danger and bravery in the face of oppression. As Christians we must have the courage to stand with our Ard Ri (High King) Jesus Christ in the face of all of these. These three saints from long ago, speak to us about this bravery for the love of Jesus Christ.
St. Brendan of Clonfert
Next to Patrick, one of the most famous Irish saints, known as Brendan the Navigator. Brendan was born in AD 484 in Tralee, in County Kerry, in the province of Munster, in the south-west of Ireland. He was baptised at Tubrid, near Ardfert by Erc of Slane, and was originally to be called "Mobhí" but signs and portents attending his birth and baptism led to him being christened 'Broen-finn' or 'fair-drop'.
Brendan is primarily renowned for his legendary journey to the Isle of the Blessed as described in the Navigatio Sancti Brendani Abbatis (Voyage of Saint Brendan the Abbot) of the ninth century. Many versions exist that narrate how he set out on the Atlantic Ocean with sixteen monks (although other versions record fourteen monks and three unbelievers who joined in the last minute) to search for the Garden of Eden. One of these companions is said to have been Malo. The voyage is dated to AD 512–530, before his travel to the island of Great Britain.
On his trip, Brendan is supposed to have seen Saint Brendan's Island, a blessed island covered with vegetation. He also encountered a sea monster, an adventure he shared with his contemporary Columcille. The most commonly illustrated adventure is his landing on an island which turned out to be a giant sea monster named "Jasconius".
More Journeys of Brendan
Brendan travelled to Wales and the holy island of Iona, off the west coast of Scotland; returning to Ireland, he founded a monastery in Annaghdown, where he spent the rest of his life. He died c. AD 577 in Annaghdown, while visiting his sister Briga. Fearing that after his death his devotees might take his remains as relics, Brendan had previously arranged to have his body secretly returned to the monastery he founded in Clonfert, concealed in a luggage cart. He was interred in Clonfert Cathedral.
Lessons from the Navigator
The greatest lesson that Brendan gives us in the modern world is that we must learn to not fear the unknown. Trusting in God is more than a cute little phrase we throw around. We must learn that wherever the voyage takes us we are always with Christ and He with us. There are no journey's into the unknown, just journeys into places we have not been. Nothing is unknown to Jesus and if He is with us, we really aren't travelling into the unknown.
St. Senan of Iniscathay
He was born in 488 in a place once known as Moylougha, about four miles east of present-day Kilrush, County Clare, Ireland. According to the prose life, his mother entered labor while walking through the woods; when she grasped a tree branch for support, it is said to have blossomed to foretell the virtues of the saint. The translation of "Senan" from old Gaelic means "little old wise man." It is thought that Senan may have gotten his name from an earlier river god whose name gave rise to the river Shannon.
While still only a child, Senan began to practice and preach self-denial, once even reproving his mother for gathering blackberries. God, he reminded her, made time for abstinence as well as for eating. The boy promised his life to God after the miracle at the estuary, where a path opened for him and the cattle he was driving at high tide.
Senan and the "Cathach"
Legend has it that he slew a huge sea creature that inhabited the island and terrorized the locals. From his childhood he surely would have heard about the 'Cathach', the beast that roamed and occupied the island, so fearful and so dangerous that neither man nor beast dared to come near the place.
Since it had been revealed to the man of God that this was the place where he should work and pray, he went there, trusting in the power and protection of the Almighty. On his arrival in the island an archangel led Senan to the highest hill from which he was able to locate the Cathach. Facing the ferocious animal, the saint made the sign of the cross and commanded him to depart.
A local chief hired a druid to put a spell on Senan, but when the druid landed on a nearby island, a tidal wave enveloped him and swept him to his death. That smaller island is still pointed out as Carraig an Draoi or The Druid's Rock, which can still be seen at low tide.
Senan is said to have died on March 8, 544. He is buried on Scattery Island, probably in Temple Senan.
Lessons from Senan
Senan teaches us one of the hardest lessons we can learn in the world today, trust. Now whether the sea monster was real or not is irrelevant. What matters is what the story is teaching us about God. Whatever terrible hardship awaited Senan, he understood that God had called him to this place and he must trust that God was in control and had his best interests at heart.
In the modern world we struggle with trust, especially with God. We fear the voyage and the destination. But we are daily being called by God to "go". Sea monsters, earth monsters or situations will arise on our journey. Senan reminds us that we have been created with purpose and that we must learn to trust God. We must be brave enough to make the sign of the cross and demand evil be gone.
It is in that demand that action is born. We are called to stand in the gap for the broken and face the evils of this world. We must do this trusting that God is with us, and even if it means our life, we have a purpose to stand against evil and injustice. But to do this we must trust.
St. Lasserian mac Nadfraech
Saint Laisrén mac Nad Froích (died 564), or Laisrén of Devenish, known as Mo Laisse, was the patron saint of Devenish Island in Lough Erne, near Enniskillen, County Fermanagh, Ireland. In the present diocese of Clogher. According to the Irish genealogies of saints, Laisrén belonged to the Uí Chóelbad, who were based in Mag Line (Co Antrim) and formed the leading branch of the Cruithni
Laisrén ran into conflict with a local pagan king, Conall Derg (father of Énna of Aran), who is identified as king of the Síl nDaiméni in the Irish Life. Utilizing his miraculous powers, the saint is said to have subdued the king, who ceded the island to Laisrén. The last significant events narrated in his Lives include a pilgrimage to Rome.
One of his stopping places was at Ferns, where he visited his foster-brother St Máedóc and promised him to do good on his behalf. After his visit to Rome, he is said to have returned to Devenish. He returned with relics of Peter and Paul, Laurence and Clement. These were buried with him in the cemetery, so that Devenish could become an Irish Rome.
The Irish annals record his death in 564.
Lessons from Lasserian
We will often find ourselves in conflict with the local king. Being a disciple of Christ will make you some very powerful enemies! We must have the courage to stand against the kingdom if it opposes the Kingdom of God. We are citizens of the countries we live in but we have dual citizenship in the Heavenly Kingdom. Lasserian teaches us that our allegiance to justice and the widow must be higher than the King.
The Christian life, when lived in full surrender to Christ is a life of opposition. We will constantly be in opposition to the kingdoms and ways of the world. St. Lasserian teaches us that if this is the case, we are truly journeying with Jesus Christ and caring for His people. Lasserian teaches us when we must choose between the broken and the powerful, we are compelled by our love of Christ to choose the broken.
To learn more about the author or Celtic Christianity click here