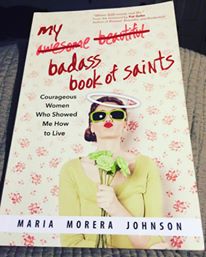 Today I'm joining the conversation on My Badass Book of Saints for the Patheos Book Club. When I first saw this book making the rounds I really loved the title. I have always felt that our saints are uber badass and especially the women! I know that men are awesome and male saints all have fantastic stories on how they lived lives that brought Glory to God in huge ways, but I am a woman and having women saints to look to as role models is a gift.
When certain circles look at History, they see the oppression that a lot of women went through and while that view of history is very important there is also a huge piece that is often left out: how Catholic women rose above the circumstances that they found themselves in. My Badass Book of Saints is a great book that shines a light on that piece! Not just of women who are canonized but also of the author and her mother and grandmother.
In this book, Maria Morera Johnson combines stories of saints that I didn't even know about along with her own stories about her struggles and those of the women in her life. It really brought the Communion of Saints to life in a real way that made me feel honored to be a Catholic Woman.
This book is fun and makes me feel like the chances of me becoming a saint are pretty good.  Maria also makes me feel like my crazy is pretty normal for Catholic women! It gives me hope, faith and love for the Catholic faith to know that throughout time there have been women who face things that I do and much worse but the same God that walks with me daily also walked with them and poured His Grace on their life.
Sainthood sometimes seems so far away and Maria's book makes it not only seem close but also exciting! Who doesn't want to be a badass?!