I have not been to Mass this entire Lent. Part of me thought that this was my idea. I should know better by now that God is always behind everything that happens in my life. He didn't find me in the midst of sin and misery to just let me go back to it because I am being a baby throwing a fit about how hard following Him is.
My car's motor busted a few days before Ash Wednesday and I decided that life is too hard when trying to be Catholic. I look around and see the lives of people who don't give two shits about morals or being saints and they seem to really have everything that I could ever wish for. My neighbors on one side of me are pagans with sketchy morals and the ones on the other side of me are the happiest people alive. They have the typical suburban life with kids and playscapes in the back yard. The wife is beautiful and works out every day in her driveway as her sweet little kids play with each other on their bikes. The scene could be a freakin' postcard to show how great life is in this safe little suburb. And then there is our family: the crazy people with kids screaming at each other because the PS3 is downstairs and someone needs to bring it back upstairs, obviously that is a crisis that needs to end with tears, screaming and doors slamming. We are great examples of the Catholic faith around here, yes sir.
I felt like a failure. That is exactly where I began this Lenten season. For the last 6 years I have believed that if I fought hard enough, if I kept the faith and if I prayed the right way that God would protect me. What I failed to realize is that what I meant by protection was that He would keep me from suffering. I considered it a matter of justice for nothing bad to happen to me anymore, even as I railed against the Prosperity Gospel. I firmly believed that following Christ meant that I would be granted the Grace to suffer anything for Him, but when it came down to it, I demanded that Grace rather than open myself to it. And I hid behind the "doing" to ignore that that is what I was doing. I have even failed to learned this lesson many, many times before.
I hid behind my writing, my testimony, going to Mass and Adoration, talking to priests and other spiritual heroes. I even hid behind therapy. I was doing and doing and doing expecting those things to end in some magical fairy tale of no more suffering. Then my car broke and I could no longer "do" the way that I was used to doing.
I wrote up a litany of things that I was going to do this Lent, mostly get my life together and do more holy things. I failed at all of them. I haven't gone to confession, Adoration or Mass like I said. I have just sat in the moments of my life as they happen and seen the blessings that I have taken for granted in the envy of my neighbor and others who I think have the perfect life because God is unfair.
On Tuesday I went out for my birthday to dance at one of the oldest dance halls in Texas. I sat there with my oldest son, his girlfriend, friends and my husband laughing and talking to people about dreaming big in the great state of Texas. I talked to strangers and met my husband on the dance floor to dance to one of my favorite childhood songs. I danced with my son for the first time ever too. At the end of the night a bartender gave me a whiskey neat as she looked me in the eye and said "you have busted your ass behind a bar for your kids momma, I see you". It was as if God Himself were standing in front of me telling me that I was good in my language.
This morning I was reading a lecture by my professor on envy where I read how it related to love of neighbor. Envy often leads to sin, just as it did for Lucifer, because it leads us to not love our neighbor and closes us off to the Grace of God due to the fact that once we feel as if others have what we want, we tend to blame God and stop praying, then that turns into not praying aka giving God the silent treatment. I was distracting myself from seeing that was happening to me by doing all the Catholic things. It's not the first time that I have done that, but it is the first time that I consciously made the decision to no longer do those things out of anger towards God. Being angry at God isn't easy either though.
I love Him the way that I love my husband. I miss Him when I am not with Him. I long for Him to talk to me, I seek Him even when I want nothing to do with Him and I can't go a day without wishing to be back with Him. But without my car, I couldn't go back to distracting myself with the doing of the things. Instead, I had to sit here longing of Him. I had to see Him in the things of my everyday life: in the dancing, the laughing, my children, in my husband's kindness, and in my work. I had no choice at all but to be still and Let Him be God. He stripped me of all my expectations of Him, even of my thoughts that justice demands anything of Him for my sake. I didn't know that I thought that, but I did. I expected God to make my wishes come true, to do as I wish and to make my life look like the dream in my head rather than serve Him because He is God.
I started this Lent giving God the silent treatment, yet I am going into Holy Week hearing Him tell me that I have been given everything that I deserve which is His Son as my Lord and Savior. I should not expect anything else, because Jesus is everything. God is merciful when we open ourselves up to His Grace. He is patient, slow to anger and will never stop searching for us. He will go to the ends of the Earth for us the proof of that is that He sent His son to die for us. Not just die, but rise and defeat death.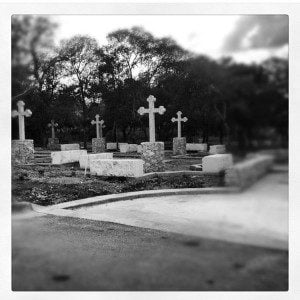 When the evil one tricks us into thinking that God does not have our best interests at heart, but God works day and night to make us see that He loves us. He meets us where we are to do that, even in the middle of us distracting ourselves, He stops time and grabs our attention. When we are in the desert all alone refusing to talk to Him, He will never stop talking to us.