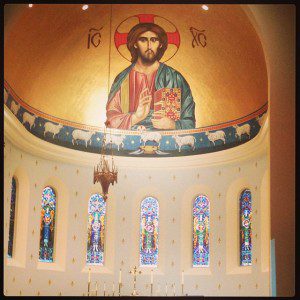 Today I was sitting in the car with my two youngest sons and this song came on the radio that we all love, it's one of our favorite songs as a family, and I thought about when I first heard that song and how exactly it became an anthem in the lives of my kids.
My youngest child was born in 2001 when I worked at Hooters. I spent the first month of her life going from the NICU to my mom's house to care for my other three children because she was a preemie. I was really tired and driving only a few days after giving birth to her. I was only four weeks post-partum but I needed to get back to work. We were already getting evicted from our house which is why it was so easy to move my kids in with my mom because we had to move anyway.
I talked my doctor into releasing me to go back to work against his better judgment and with a lot of restrictions. I had a lot on my plate and like I said, I was tired. Tired isn't even the word for what I was, it was so much more than that. In my exhaustion I made a huge mistake that ended with me getting fired from Hooters. I had worked there for years, my coworkers had supported me through two pregnancies and my regulars had helped me buy Christmas presents for my kids for years. This place was more than a job for me; it was my second home and a place where I felt that I belonged and was part of a family. I had no clue what I was going to do.
A few months after getting fired from Hooters I answered an ad in the paper for a job at a club that was about to open up in town. The building the club was going to be at was one that I had frequented when I was younger. The memories of me and my family came flooding back to me as I walked in the building from the side door. The air smelt like cigarettes and old beer. There were workers everywhere hammering and walking around. Right in the middle of the dancefloor was a table with chairs and papers scattered on it like a makeshift office. Sitting in one of the chairs was this teenage girl smoking a cigarette. I couldn't do anything but stare at her as her mother interviewed me. I didn't know where they were from by their accent but later found out that they were South African.
The girl smoking ended up being one of my closest friends in life. When her and her sisters wanted to go see a Three Doors Down concert, my ex-husband and I chaperoned them.
We found our seats and the lights went down for the opening act. As the lights in the auditorium when down, the spotlight on the stage went up and in the middle of the stage stood a guy with a guitar. He didn't look like the kind of guy who would play an acoustic guitar really, he was really tall with long hair that he let hang in front of his face as he bent over to sing in the microphone, he towered over that mic. It was just him and his guitar in the spotlight as he played an amazingly beautiful song that stunned everyone silent. Nobody in this huge convention center was moving; everyone was looking at him and listening to his voice sing Broken.
I found out who the guy was, that his band was named Seether and they were from South Africa just like the girls, which sent them into hysterics about how awesome that was. Month later I would dedicate that song to the sister that was my friend as she battled bone cancer. Since then I have been to a lot of Seether concerts, I drank a beer with them at Hooters where I used to work, they even dedicated Broken to me and my friend at a concert when she went into remission. Seether is the first concert that my husband and I went to with our oldest sons when he came home from Iraq. It was the first concert for my three youngest children and a Seether concert is the only concert that my husband and I and all of our seven kids went to together. Seether concerts make my life.
I have played Broken when I was crying out of fear that my friend was going to die, when I divorced my first husband, when Stacey broke up with me after my DWI, when my oldest son had his first heartbreak and when I feel like my kids are growing up way too fast. It is my meltdown song.
It is the kind of song that helps me to offer up my suffering to the suffering of Christ on the Cross. The entire song is about the redemption of being broken and the Cross of Christ is where brokenness was turned into redemption.
Cause I'm broken when I'm open
And I don't feel like I am strong enough
Cause I'm broken when I'm lonesome
And I don't feel right when you're gone away