A week ago I began a trip that was unlike most.  Traveling is always hectic and uncomfortable.  This specific trip, though, was something special and pushed me to a limit I haven't felt since my high school football days.  The main objective of the trip was to accompany a speaker, author and theologian named Christopher West.  I have known Christopher for about 13 years now and have been providing music at his speaking engagements for the past 6.  Its a fun gig.  Christopher is an incredible speaker and has the gift of floating in the moment.  He also has the incredible ability to see theology in all things.  It is precisely with this gift that he is able to see the relevance of my music to the subject matter he presents on and weave my songs into his talks seamlessly.  Personally, I love the event.  At a concert I have to work a room in order to play specific songs and court the audience to really enter in.  At these gigs, however, Christopher spends a good 20 minutes preparing the audience before I play and when I do, it seems they hang on every word.  I don't play too much at these events, but enough and each song go's over potently.  My second objective was to collect two interviews for my soon to be released podcast, Time & The Mystery: Conversations With Mike Mangione.  The first interview was with Christopher himself, the second was with a great singer named Alex Ebert, frontman to the band Edward Sharpe and The Magnetic Zeros.
I woke up on Wednesday at 3:30am and had planned to leave my house around 4am.  This was the plan but like always, my exit was delayed by an inability to stop saying goodbye and kissing my ladies.  The drive was a quick 2 hours to Chicago's O' Hares airport.  Economy parking has gone up in pricing which is awesome……………………..  My flight went off on time and I was quickly sleeping snug nonstop to Fort Myers Florida.  I have no problems sleeping on a flight, I actually am amazingly good at it.  My routine is always the same.  Window seat, water in the seat pocket, hoodie up, sunglasses on, ear buds in and either classical or jazz music blasting in my ears, preferably Glen Gould but recently John Coltrane.  I got into Fort Myers and had to wait for Christopher and his associate, Jason, to arrive two hours later from Philly.  Once they arrived we set off with our host, Scott, from Ave Maria University.
We arrived at Ave Maria and were given a little tour of the campus.  The campus is new, established in the last decade.  It's a pretty place, i think by default being in Florida..  But honestly, it had the feeling of not "being there" yet.  The downtown was nice, whitewashed stones and open spaces.  A funky chapel right in the center of the square that was taller than long.  The downtown had kind of a ghost-town quality to it.  Like we were looking at the heart without the blood..  or like being the only one at a strip-mall.  Potential not fully realized yet.  My hope is that this place can culture up some life in the next 10 years making it fully alive.  Time will tell.  The event took place that night, it was two hours long.  Christopher forgot to call me up for one song which is pretty common the first event back after not working for awhile.  I had a student take me to the airport the next morning at 4am.  The student was a senior and a member of the schools basketball team.  He was getting ready to begin an array of tryouts with professional teams over seas.  I was dead tired but not short for questions about this process and lifestyle.  Apparently the Italian leagues are very desirable…who knew.
My next stop was Kansas City by way of Houston.  I was flying solo as I would be this entire trip because of my commitment to United Airlines.  Not to brag but I am kinda a big deal in the world of Milage and status… Far bigger than I am in real life.  This is important when traveling with an expensive and fragile instrument.  I arrived in KC, rented a car and drove 2 hours to Manhattan Kansas for a gig at Kansas State University.  I arrived with some time to spare and met up with Jason and Christopher in their hotel room.  This was the perfect opportunity to conduct my podcast interview with Christopher….So i did.  At first I was a little nervous since I knew him so well….what were we going to talk about that was new and authentic?  How was I going to keep him from kicking into "speaker" mode?  I set the room up and simply told him to "speak to me, not to you audience."  He fully understood what I was getting at and we lifted off into an amazing hour long chat that had to be stopped because it was time to go.  We touched on stories and identity characteristics that I have never heard about him.  I was surprised at how well the interview went and how completely interested I was in it (I have known him for a long time) When Jason urged us to wrap it up we were shocked by how fast time went by.  I assured Christopher we would be able to finish the rest at a later date and we moved on.  I might have to make this interview a 2 part series, since there is just so much in there.  The event was great.  The auditorium was packed with students and the response was warm.  College students have such a unique energy and presence about them I find.  They are 1 part confidence and 1 part insecurity.  If I don't remind myself of this characteristic their presence can make me nervous and on edge.  I was reminded and all was good.  I ended up leaving K State at 11:30pm and had to drive the 2 hours back to KC to where I was staying.  I arrived at my buddy, Mark's place, by 2am.  We talked for a little over an hour, I set my alarm for 3:45am and I slept the crap out of the remaining 40 minutes.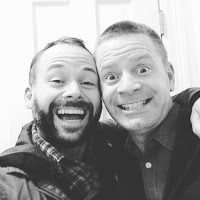 Christopher and I
When the alarm set off my first thought was "I actually feel pretty good"…my 2nd thought was "how the hell can I feel pretty good?" I could only conclude that my body was broken and would end up   crashing at some inopportune time down the line.  I set off for the airport and my new destination…New Orleans..by way of Houston of course.  I arrived in NOLA at noon and had to get my rental car and go.  I had my 2nd interview scheduled at 2pm with Edward Sharpe & The Magnetic Zeros frontman, Alex Ebert.  I had slept both flights for a combined time of 2 hours and 40 min and for some strange reason I felt great.  I wasn't going to question it, i had a lot to do!  I set out for Alex's place and arrived a little early.  Down the street there was a church and I decided to step in to think through my interview, i am glad I did.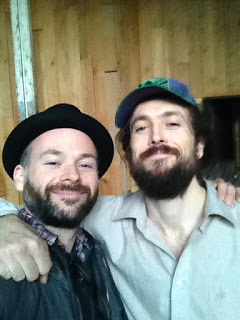 Alex and I
I knew Alex would have a lot to say and would be eager to enter into the type of conversation my podcast facilitates.  I had met him a couple times in the past and I could prepare accordingly based off of my past experiences.  Finally the time came to meet up and I headed to the address he gave me and gave him a call.  I wasn't exactly sure where this tall lanky dude with a bun on his head would pop out since the address didn't really exist.  The cross streets, however, did and I stood scanning left to right and left again, waiting for a sign of Alex.  Sure enough.. I hear a "hey!" and a shirtless Ebert hung out of a door waving me towards him like some fan being invited backstage under questionable circumstances.  The building was Ebert's studio and location of the bands last recording sessions.  It was, in fact, the bands last project here that delayed my album from starting.  This was because the Edward Sharpe band members I was working with didn't have an end date to their new record since they never planned one.  They begun their tracking last November and we begun ours late March.  It all worked out.
The place is what you would imagine.  Dark with spots of natural light, eclectic, a random cat walking around, random dudes and band members hanging around smoking, a shelf full of vitamins and natural supplements…yada…yada… very nice and comfortable.  The only surprise for me was the large quantities of children's toys laying around.  Alex's daughter, Eartha, is 3 and often times needs to keep herself busy while he works on material.  We found a cozy place in the big room and jumped in.  There were no hiccups or curve balls.  The conversation was right up Alex and my ally and we wove in and out of everything from growing up, faith, drugs, God, freedom and music for 1 hour and 40 minutes.  There were moments of explanation, moments of unity, moments of question and  "ah ha" moments.  It was everything I knew it could be and more than I expected.  In my opinion probably the best interview so far.  I have a lot of respect for Alex.  I always have but more so after our conversation.  He has a mission and it is one I wholeheartedly believe in.  I feel the world is better off with him playing and performing music and that makes me very happy.  We finished the interview and hung out a little longer sharing ideas and stories.  When 4:30pm hit I had to run, I had an event with Christopher in Thibodaux, LA, an hour and a half drive form where I was.
I arrived just in time, a little late actually.  I didn't have enough time for dinner but from what I could see it was all seafood and I was thankful I missed it!  The event lasted 2 hours and then I hung around talking with people and selling mercy…or merch…thats an autocorrect but I like it.  I was selling Mercy and merch together, a special package deal.  The 3 of us left together at 11pm for a 2 and a half hour drive to the destination of our next and last event, Bay Saint Louis, MS.  With roughly 3 hours of sleep for the day under my belt I was voted as the driver… I wasn't worried however, being a touring musician for the past 10 years has prepared me thoroughly for situations such as this.  With the help of a podcast and a giant Coke Zero I made way East towards Mississippi.  We arrived around 1:30am and I had my head on a pillow by 2:30am.  Our next event was at 9am and I was able to barter for an 8am departure.
The event was in a little town right on the Gulf called Bay Saint Louis.  A beautiful area that I have never been, which is unusual.  The locals had informed us that this was ground zero for Hurricane Katrina a couple years back and everything in sight was not only completely demolished but 35 feet under water.  This is hard to imagine when you stand among its beauty looking beyond the pristine sand towards the Gulf.  The event lasted until 4pm and by then I was a wee bit tired.  Afterwards we had dinner with the hosts and headed out to our next stop which was a friend of Christopher's in New Orleans, another 2 hours away.
Bay Saint Louis, MS
When pulling up to the house where we were staying I decided I was not done for the night, I wanted to go explore.  New Orleans is one of my favorite places in the U.S and I was not OK with spending the night indoors at 9pm.  I dropped off Christopher and Jason and headed to the French Quarter.  I didn't really have to much of a plan except stroll, eat beignets at Cafe Du Monde, take pictures for social media and maybe see a little music.  I did all of it and ended my night in a small jazz club near Royal street.  It was the perfect conclusion to my trip.  I was tired and open which is exactly the disposition needed for Jazz music.  When the clock hit 12:30am I knew I had to get back and get a little rest before my 10:30am flight back to Chicago.  I tipped the band, stood at the front of the stage and told them how much I appreciated their music.  They thanked me and the female singer looked at me and simply asked "what do you play?".  I laughed and replied… "is it that obvious?!"  a fitting end to this trip.  Sometimes you just need to show up which is all I could do during my 5 day whirlwind rendezvous.  I succeeded, I was there.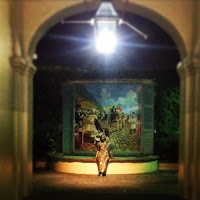 Lonely In New Orleans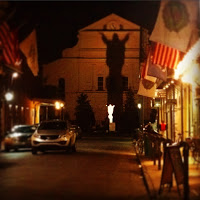 The New Phoenix Of New Orleans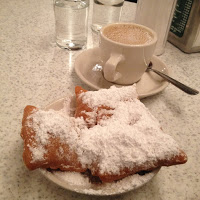 Cafe Du Monde
Songs To Inspire
Edward Sharpe – Man On Fire