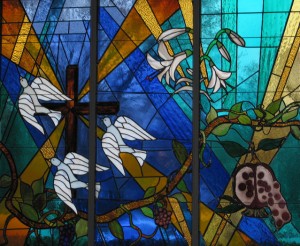 In the last few years I have become convinced that the Christian life is fundamentally about learning to love like God. It is about learning to abide in the Vine and live from the presence of the Lord. In response to the greatest act of selfless love ever known to mankind, the cross of Christ, life in him is about learning how to love and be loved.
When we realize that God made provision in his son Jesus for us to know Him everything changes. Every fruitful endeavor in his Kingdom flows from the knowledge of who He is to us. As I have have often heard it said, whoever Jesus is to you is who he will be through you. He is the only one who knows how to love perfectly. 7 is the biblical number for completion or perfection. In John 4 Jesus encountered the Samaritan woman at the well who had had five husbands and was currently living with a sixth man. He shows up on the scene as the seventh man, the perfect man, whose love for this notorious woman stunned everyone in town. Such is the kind of love that turns harlots into evangelists.
We now get to do the same; we get to love radically because Jesus is our model for ministry.
The deepest cry of the human heart is to be known and cherished, and it is also what we fear most. The very thing we most crave we are terrified that we will not receive, and there is no shortage of substitutes to fill the perceived deficit. Even the best of things cannot fill that space. Only Jesus. Life in Christ also includes opposition and suffering. We have nothing without Calvary. But Jesus not only died for us and as us, he was also raised for us. And we are raised and alive to Him.
The Holy Spirit's job is to convince the world of sin. It is our glorious opportunity to convince those who do not yet know the Lord of the glory of which they fell short. Once people get a taste of who they were made to be in Him, something deep within their souls springs to life. It is, after all, the kindness of God that leads to repentance.
The larger battle on the resurrection side of the cross is not so much against sin–though that is a very real and important one–but about finding out who we are in Him. When our minds are renewed to the reality of what Jesus accomplished on our behalf, sin loses its appeal. We stop trying to modify our behavior through religious paces and rest in the knowledge of what He has done. It is the Enemy who wars tirelessly for believers to be more conscious of their own sin, failures, and personal issues than they are conscious of God, who has made them new in Christ Jesus.
About a year ago I heard a story of a pilot who was terrified to discover an unwelcome guest doing an equally unwelcome thing. While he was flying his plane he looked down and saw a rat chewing on the fuel line. He was going to have to land his plane as soon as possible but he was not sure if he had time to do so before irreparable damage was done to the aircraft and he was toast. Faced with an emergency he flew the plane even higher. The decrease in oxygen was enough to kill the rat. There was no more chewing and, therefore, no more danger. He could now land the plane without fear.
Since there is only one direction in the Kingdom, from strength to strength, it's no use to stare at the rat wondering how on earth we are going to manage our affairs with a filthy pest that eats away at our lives. When we ascend even higher with God and set our affections on Him, the pests disappear for they cannot abide His presence. Darkness always yields to light. Love drives away fear. And in Christ we get to live from love.
I long for the day when such is the posture of every follower of Jesus.
——
Photo courtesy of Freeimages.com